I love the sheetmetal on this car. It's thick and appears to be of good quality, but there's rust and they don't make aftermarket sheetmetal so I had to fab up some parts with what little tools I have. I will continously update this til the car is done and should have a video of the metal work up soon.
RIGHT QUARTER
I've never traced a patch this way but in hindsight it wasn't a bad idea and it turned out pretty good, or ok for the time given and tools I have. It's pretty self explanitory.
YUK!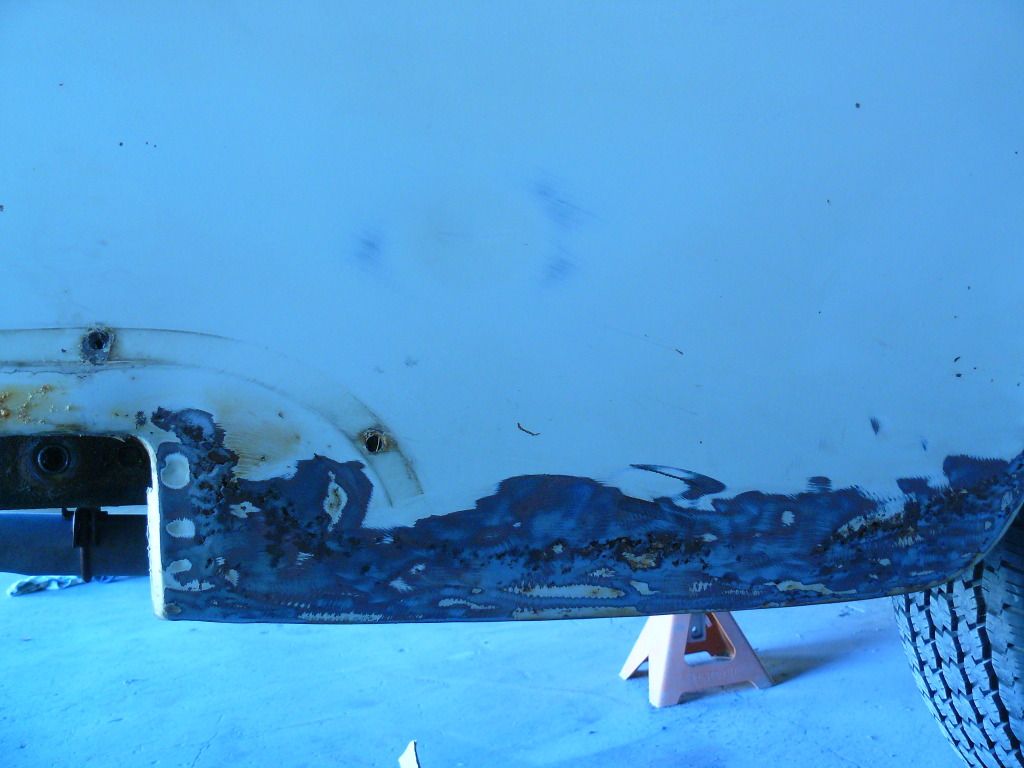 I PLAN TO CUT THIS MUCH OUT CAUSE I WAS POKING AROUND THE BACKSIDE AND KNEW THE DROP OFF WAS ROTTED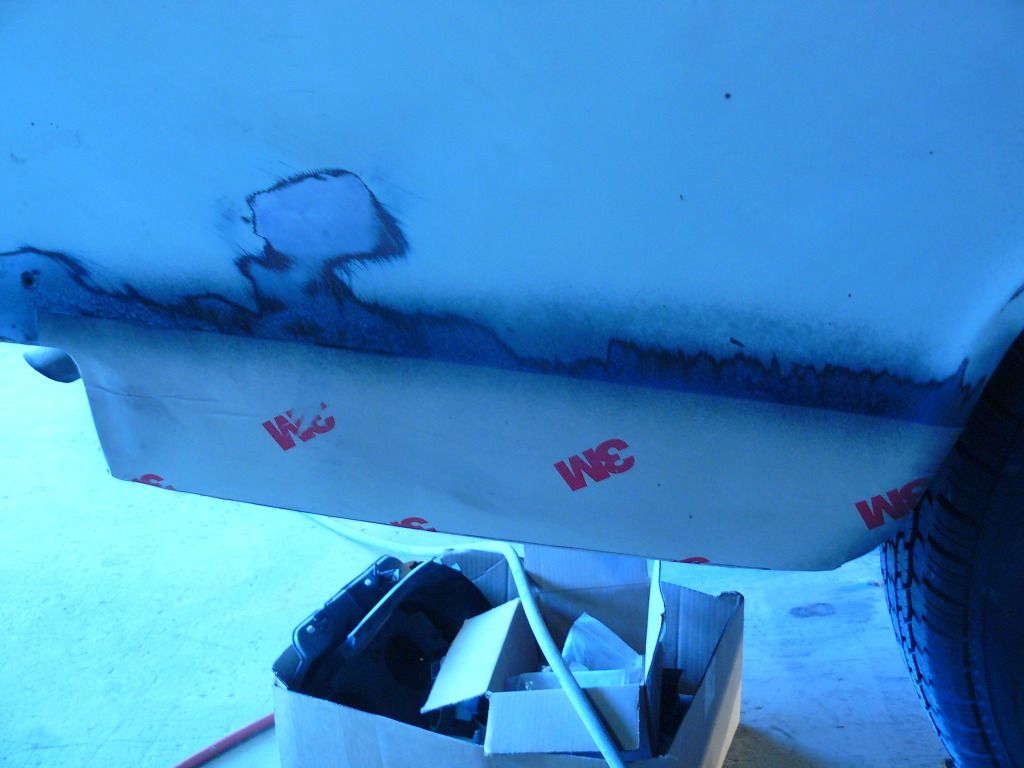 LET'S TRACE IT BEFORE IT TEARS OR SOMETHING!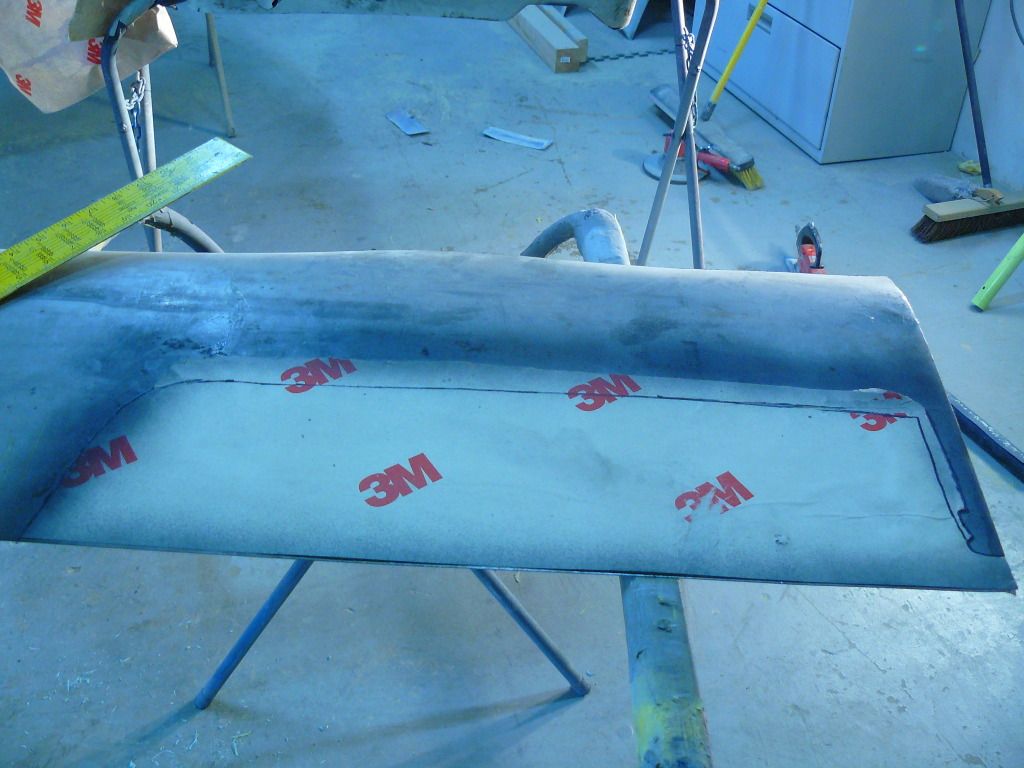 NOW LET'S TRACE THE BEND.
PLEASE DON'T BREAK MY CHEAP HF BRAKE!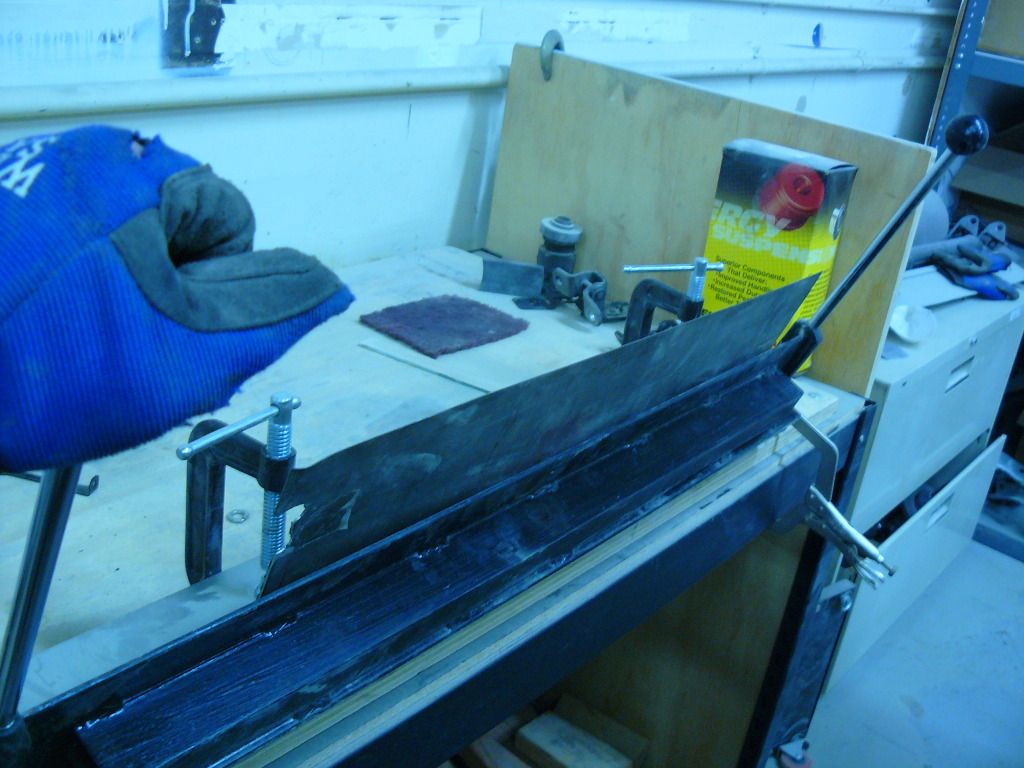 LET'S JUST SCREW IT IN ON TOP AND HAMMERFORM IT TO THE OLD PANEL! THANKS HPR1 FOR THIS TIP!
NOW LET'S CUT OUT THE RUST AND FLANGE IT CAUSE THE EDGE OF THIS PATCH IS FLOPPING ALL OVER THE PLACE!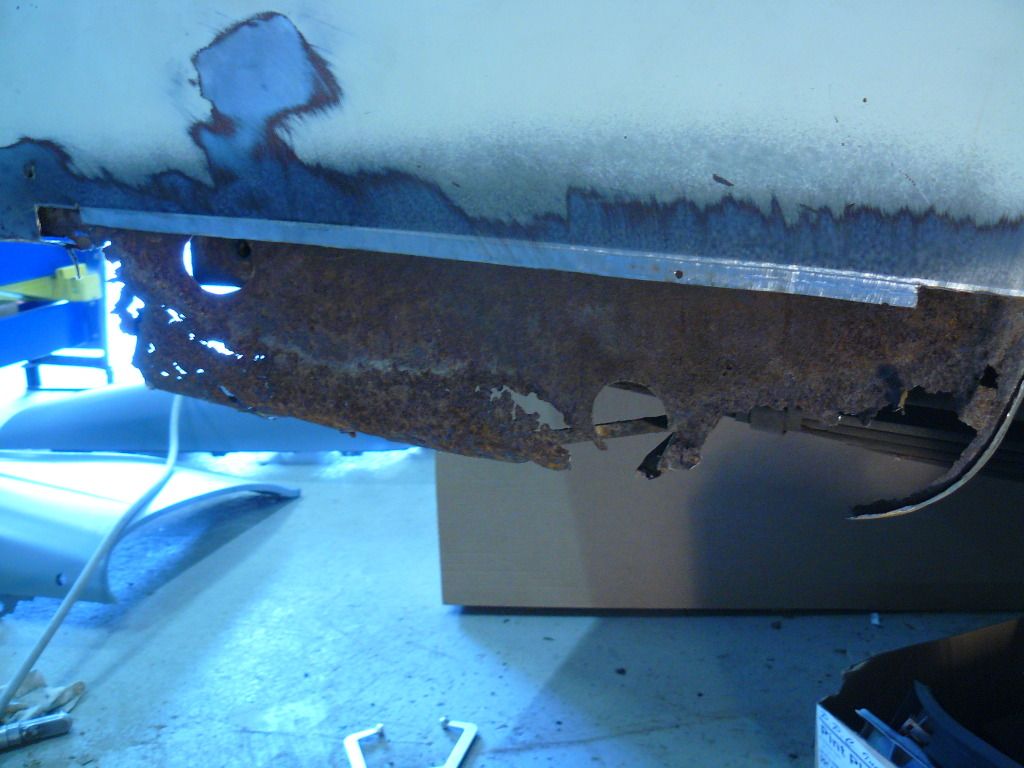 LET'S MAKE UP SOME TIME HERE BY JUST SLAPPING ON SOME METAL BACK THERE AND CALL IT GOOD! STRENGTH IS THE ONLY GOAL HERE CAUSE THIS MAKES ME WANT TO PUKE!
EVEN THOUGH THE PAINTER WILL PUT HIS MAGIC WAX WAND IN THERE LET'S ETCH IT AND THROW ON SOME WELD THRU PRIMER.
WELD THE SEAM. NOTICE THE SPOT CUTTER BEING USED TO FILL THE BACK HOLE AND GIVE IT A PLUG WELD UP FRONT? INSTEAD OF A PLUG WELD I TACK IT TIL IT'S FILLED BUT SINCE IT WAS 4:45 WHEN I WAS DOING THAT I KIND OF HAMMERED THEM ON. UP UNTIL THAT POINT I WAS VERY PATIENT AND NO SHRINKAGE. IT'S NOT BAD THOUGH.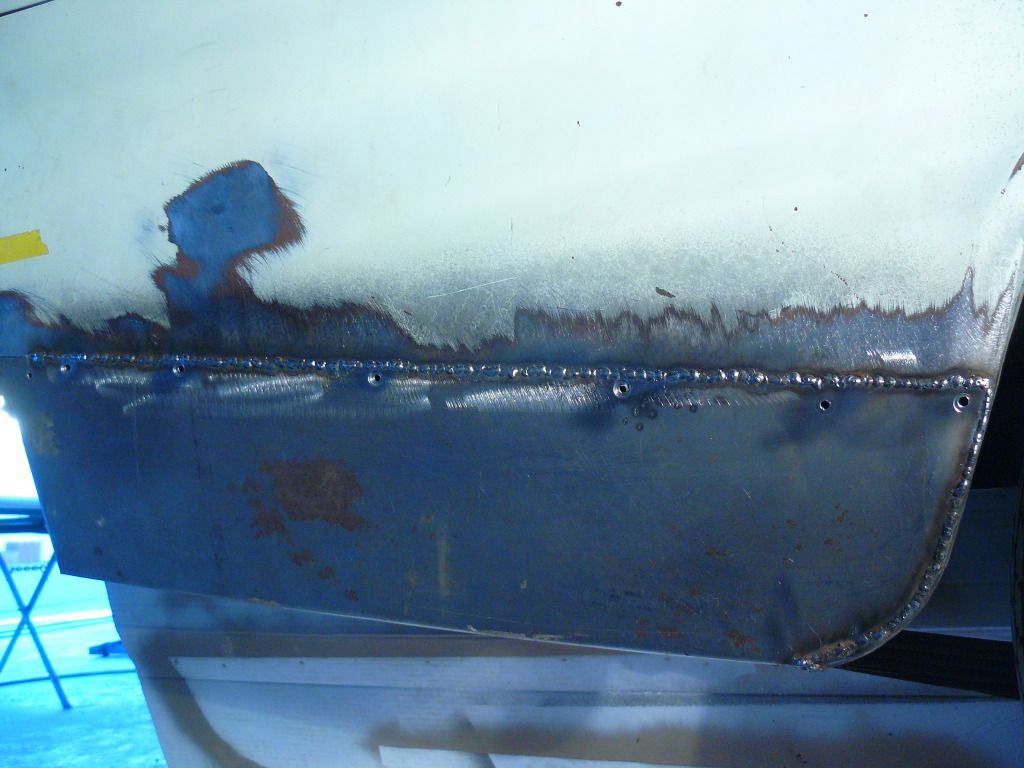 NOW LET'S CLEAN IT UP AND MOVE ON!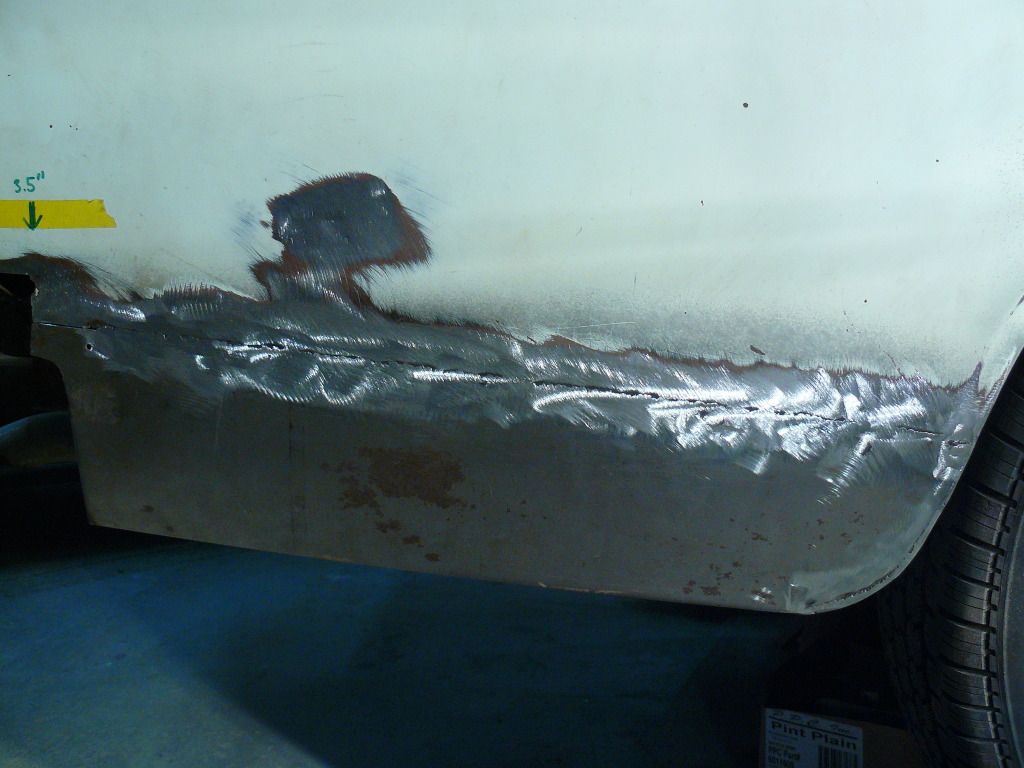 I HAMMERFORMED THIS PEACE BEFORE I EVEN CUT OUT THE NEW PATCH. NEXT TIME SOMEONE GRABS THE SHEETMETAL TO MAKE A PATCH THEY MIGHT GET MAD AT ME FOR THAT-DOH!
14 HOURS LATER AND IT'S ALL DONE, ETCHED ON THE BACKSIDE, SEAM SEALED, AND UNDERCOATED!