Your 1998 Vortec 305 is rated at 230hp@4600rpm and 280lb/ft torque@2800rpm. It has a 191║/196║ duration @0.050" and lift of 0.412"/0.428" with a 111║LSA.
Your truck will have a y-pipe into a single catalytic converter.
The 1996-2002 Vortec 350 L31 is rated at 255hp@4600rpm/330lb/ft@2800rpm. It has the same cam as the 305, but has 1 7/8" headpipes into dual catalytic converters.
Both of these engines use a CSFI(Central Sequential Fuel Injection) that operates at 60-66 psi, and poppet injectors that flow 23.1 lb/hr at 63psi pressure.
The Ramjet 350 is simply a Vortec 350, with a slightly larger roller cam with specs of 196║/206║ duration@ 0.050" lift of 0.431"/0.451" with an LSA 0f 109║. It also uses 1.6:1 roller rockers,the same ones that are in the LT4 Hotcam kit.
The Ramjet 350 is rated at 350hp@5200rpm/400lb/ft@4000rpm. However if you use power units that are comparable, you will find that the Vortec 350 L31 in the trucks is rated at 255 SAE net hp, which is actually roughly 310-320 hp as compared to the Ramjet 350's 350hp.
Basically what I am saying, is that if you go and buy a brand new Vortec 350 from GM ofr $2000, you will be saving yourself about $3799 from the $5700 a Ramjet 350 crate engine costs.
You could add a camshaft, lt headers and exhaust and be ahead of the Ramjet 350 crate. The Ramjet 350 crate comes with a MEFI ECM which you dont need. You can simply have your 305 PCM reprogrammed to stock 350 specs or have a performance calibration installed. I highly recommend the performance calibrations.
The intake manifold of the Vortec 350 and Vortec 305 are EXACTLY teh same, as are the injectors. You can take your stock Vortec 305 intake and plop it atop a Vortec 350 and bolt her down, get a tune, and your ready to go.
This is a pic of the stock Vortec 305/350 CSFI "spider" injection, stock CSFIO top, and GM's MPFI conversion lower The MPFI conversion uses Multec 2 mini injectors at the end of each spiders leg, where the stock CSFI spider uses popet valves which are opened by fuel pressure at the ends of the legs. The CSFI system was NOT compatible with Caliufornia gasoline, so GM created teh MPFI conversion and retrofitted them under warranty in California.
Marine intake left, stock CSFI intake right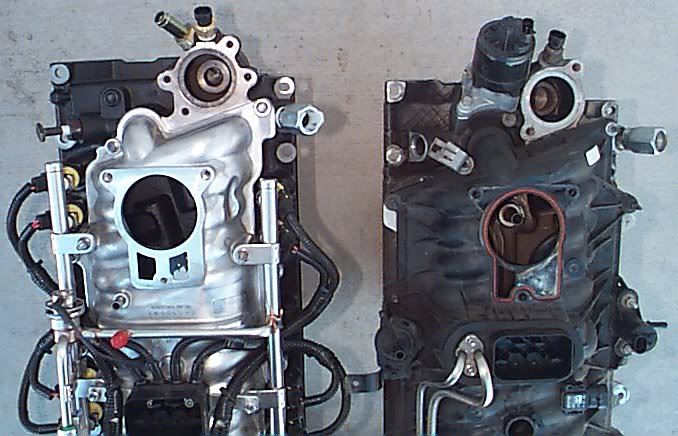 Same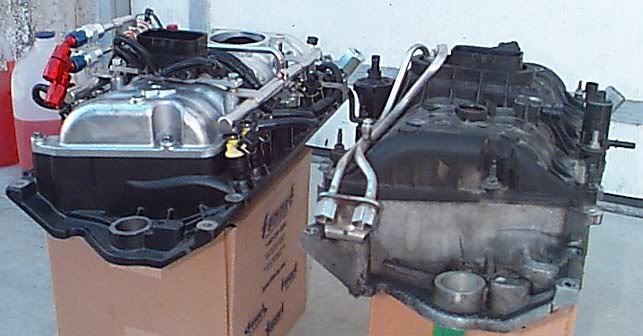 Stock Vortec 305/350 L30/L31 intake
Stock Vortec 350 1/2 ton truck exhaust left, stock Vortec 350 3/4 ton exhaust right. Notice the puny dual 1 7/8" pipes that crimps down MUCH smaller in the bends, compared to the dual 3" exhaust and larger cats from the 3/4 ton trucks
Same
Same
Here is a Vortec 350 with a Ramjet intake manifold on it with a CNP ignition setup, with LT4 Hotcam/headers and PCM tuning.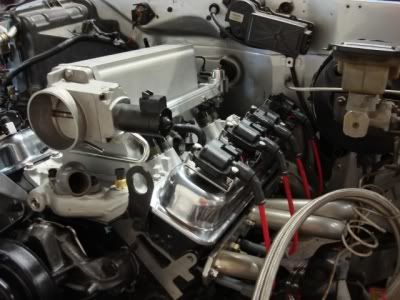 And the dyno printout from the same truck 311rwhp/334 lb/ft rwtq
These are the extruded aluminum fuel roller rockers used on the Ramjet 350 engines.
So if you got crate engine 12530283 Vortec 350, brand new Vortec 350 with 4 bolt mains, designed for the 3/4 ton-1 ton trucks, its about $50 more than the 12530282 Vortec 350 with 2 bolt mains. The only difference is the 2 vs. 4 bolt main bearings.
Install your stock intake manifold, and install whatever roller cam you wish. Lingefelter Performance makes some excellent roller camshafts for the LT1's which will work intehse engiens as well.
Get your PCM tuned. $175 from PCMforLess, Bryan Herter is his name, he's big in the 1994-96 Caprice Impala SS LT1 racing crowd.
Truck
Bryan's email
programmer@pcmforless.com
Get some longtube headers Hooker has the 2462 HKR for painted, 2462 1HKR for cermaic coated, and 2462 2HKR for stainless stell. I have run the 2462 1HKR for over 10 years without rust through, daily driving even through Canadian winters/salt.
Hedman makes their "Husler" series for the 1996-1999 CHev trucks, here is a pic of a used set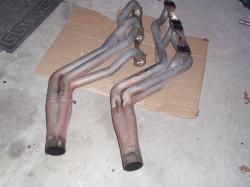 And get a decent single 3" or dual 2 1/2" exhaust and enjoy your over 300hp engine with capability for 200-300,000 miles reliability.
I have a 1997 reg cab shortbox, bone stock I added a set of Hooker headers with dual 2 1/2" exhaust and got a PCM tune for use with 87 octane fuel and it literally felt like I dropped a 383 under the hood. Stock I ran at high 15.9 and got down to the low 15's and finally high 14's with gearing.
The good thing with going with a stock 350 and cam, is that you simply lift out the 305, and drop in the 350, and away you go. ZERO wiring or other mods.
The only issue is that your truck has the y-pipe with single cat, it will run fine with your stock manifolds/y-pipe and cat, but you are leaving substantial power on the table with the restrictive stock iron manifolds/stock Y-pipe/cat.
GEN 1 engine 1955-1995
GEN 1E engine 1996-2002 Vortec 350/305
GEN 2 1992-96 alum head LT1(Vette92-06, F-body 93-97), iron head LT1 1994-96 Caprice/Impala SS, Buick.Cadillac 260hp, and the 1994-96 4.3l Vee8 L99 200hp engine
GEN 3 1997-2005 Vette, 1998-02 F-body, 1999-2007 trucks
GEn 4 2006+ Vette (6.2 LS3,LS9), 2010+Camaro(6.2-LS3,L99), 2007.5+trucks(4.8,5.3,6.0,6.2)
IMO there isnt much reason to do a GEN 2 swap as the Vortec 350 engine actually uses the iron headed LT1 ports and only adds complexity to the swap. There are some advantages top teh LT1 intake manifold as it uses injectors which can be resized to whatever power level you need, unlike the stock Vortec 305/350 intake which forces you to run the stock 23.1 lb/hr injection. There are upsized spiders available, although these are aftermarket and very very new.
let me know if you have any questions.
peace
Hog