DAMN SON!
that body is in EXCELLENT condition!
people say that it would take a long time to electrolsis the body, i disagree!
with the panels all taken apart, it would take a week to do if you had your mind set on it.
electrolsis for your car? i think not. it seems to me that your car does not havve rust... but what i like to call patina!
the previous post are very informitive, but like anything else theres a million and one ways to skin a kat!
if that was my car, i would use a combo of DA sanding and Stripper wheels.
it takes a hell of a long time, but electrolsis takes care of rust and does not do well with painted panels.you would have to strip all the paint first.
another thing is that electrolsis tends to make the metal brittle, and with a body of that calibur i would bet it would kick your ***** when it comes time to do body work.
inner structure...
contrary to popular belief.. i would never again use box tubing as a form of a inner structure. its heavy and overkill. i have been working on a 30 oldsmobile 5 window coupe ( 31 chevy and 36 chevy body parts were used also)
i did 1" box tubing throuout the whole project. and now that i have enough motor to get the thing to really fly down the road.... pushing it by myself is a problem.
i havnt scaled the car yet, but its damn heavy! ( mabe i got other issues, but caster, wheel base, bearings, and brakes seem alright.. and a posi rearend dont help much either for 1 HP movement!)
im getting ready to gear up to build a 1930 model A with minimal wood.i am going to use 16-14 gauge sheet metal.
with a brake, shrinker, and streacher( make a brake, shrinker streacher are pretty cheap) im going to replicate the patterns of the wood. it will look alot better than the box tubing design.
as for a welder on a budjet.
i started with no welding skills with a century buz box. `150 dollar no gas previsions. 110 fluxcore. it does great for sheet metal and thin wall box tubing. DO NOT STRUCTURAL WELD WITH A 110 MIG. WITH OR WITH OUT GAS!.
when you replace the wood, MAKE SURE THE BODY IS ALL LEVEL AND SQUARE! i usually build a dolley or other to hold it in a fixed position.
brace the body by welding in conduit or other metals at main intersecting points. dont be afraid to weld where you need to, you can grind it off later, and keep grinding in mind when you weld.. (how are you going to get to the weld?)
its alot of work. its alot of beating your head, knuckles, and your pocket book.
BUT THE OUTCOME IS WELL WORTH IT..
JUST FOOD FOR THOUGHT... HERES SOME PICS.
WHAT I STARTED WITH
GETTING IT SQUARE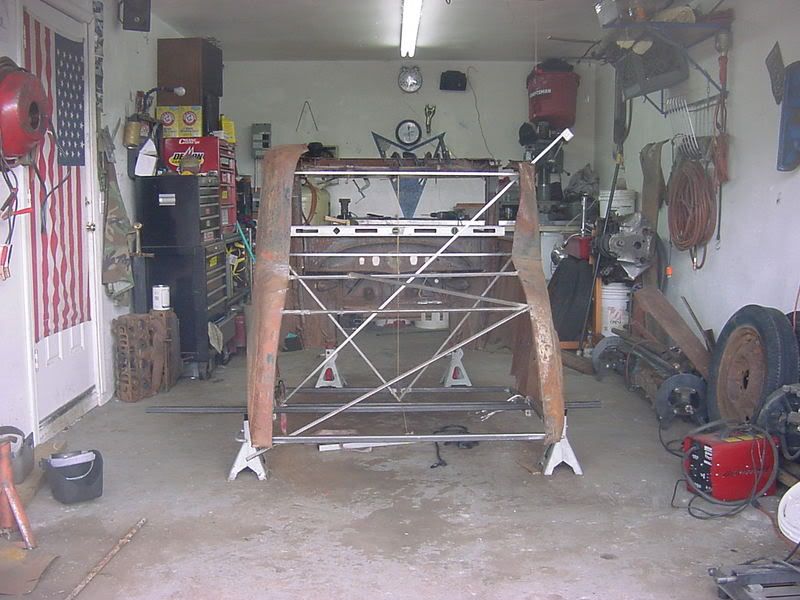 FILLING IN THE UPRIGHTS.
ALMOST THERE
WHAT FLUX CORE WELDS CAN LOOK LIKE.
ELECTROLSIS ON MY DASH WITH NO PAINT.
THE PRODUCT TODAY
http://www.youtube.com/watch?v=1LTcms2hTCk