Quote:
Originally Posted by 90CamaroRS
What compression did you run on your engine? And thanks for the retainers and spring info, thats what I was wondering about.

Why didn't you tune the 85 ECM for the mods you made? I bet it would have run a lot better in the 1/4 mile.
Stock 9.4:1 plus whatever the 0.030" Overbore added.
If it were my car I would have tuned the ECM. ACtually if it were my car I'd stuff a 411 OBD2 PCM in it and tune it with Tunercat OBD2 that I use on my 97 L31 truck.
I tell him to spend the $160 for a chip from Fastchip, but he wont spring for it. He wants to get a local dyno tune, but the guy will only tune it if he switches it to Speed density. b/s
The car has a decently lopey idle esp. when warmed up, but hunts for idle excessivley at idle in gear, and will stall in gear A/C on at stoplights. This all in the tuning, less MAP pressure due to cam and the ECM is confused.
The Iroc netted 1.80 60ft times with thestock 305 TPI TC and stock 3.42 gears. The car will almost dead hook with a WOT stomp from idle. Its a good all around combo, good low rpm torque, and decent 3rd gear pull.
Even with the stock 305, thecar did easy OD burnouts with the 245/50-16's.
He swapped out the stock 85 MAF from Granatelli and he says it ran a 12.8, but I havent seen the slip, so I am skeptical.
That lower intake is $400US and the one I installed was one of the1st ones released and it took over 4 hours of mods to get it to work. Bolt holes drilled by not tapped, alignment issues. I have heard they are better now.
I would think that 400 lb ft is attainable.
A Ramjet 350 intake will work.
I like this intake as well, under $200.
http://store.edelbrock.com/mercuryme...ensorslot.aspx
pic here of the marine intake I am using in my 97 L31 truck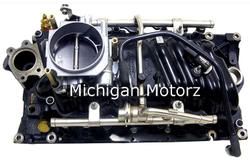 Here is a stock L31 Vortec 350 intake next to a marine intake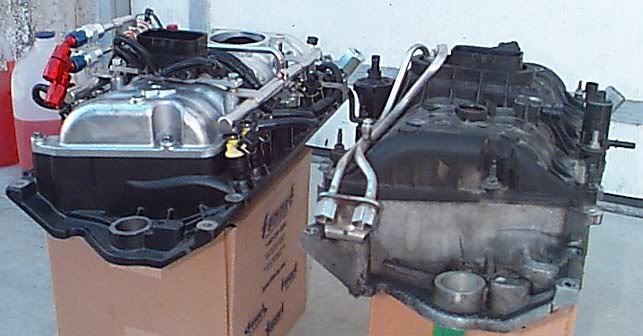 peace
Hog