Sounds like you got a handle on it.
The 4.3 in the 1996-1999 full size GM trucks was rated at 200hp/260lb/ft torque. TBI 350's were rated at 190-210hp with 300 lb/ft torque.
My g-friend had a 4.3 V6 reg cab shortbox 2wd , 4l60e auto, 3.08 rear geared 1997 Chev pickup. I had 1992 reg cab 2wd, 700r4 auto, 3.08 geared truck but with teh TBI 350 engine. We would drag race adn I would get up on her out of the hole, but she would always walk by my truck before the end of the 1/4 mile.
Thats when I sold my 92 rcsb and bought myself a 1997 reg cab shoprtbox 2wd truck which ran a best of 14.8@94 with 2.007 60ft time. Bottom line, the 4.3 L35 you have will work cvery well in your light car.
Personally I would just run the EFI. Just use the PCM from the engine, run a high pressure pump that will feed at least 66 psi to the engine. The throttle response from an injected L35 V6 will be lost with a carb, but its your truck.
The 700r4 requires a TV(throttle Valve) cable to control line pressure and shifting. It mounts around teh carb and attaches to the carbs throttle arm
here is some Lokar stuff that wil work
Buy Lokar Throttle Valve Cables and Brackets from PATC
Not 100% sure if there is a mechanical fuel pump provision on teh 4.3 Vortec block, you may have to run an intake or inline low pressure pump regulated down to 8 psi to the carb.
A standard V6 HEI distributer will work fine for you.
Grab a carb with an air cleaner/breather ****embly.
Exhaust manifolds or V6 headers will work.
You may need to leave some sensors in the holes to prevent coolant/oil leaks.
You must use a squarte bore carb with the 2116 intake manifold
http://www.summitracing.com/parts/ed...s/?prefilter=1
The 4.3 is a 350 mius 2 cylinders, so a 500cfm carb is more than enough, just match it up to your intake.
Be sure you get good intake manifold gaskets, teh stock ones have been reworked a few times by GM. felpro makes a very nice aftermarket set with strong metal inserts, but they are expansive.
QMS98002T by Felpro these also come with upper and lower intake gakets as well as the centerbolt valvecover gaskets Unfortunately you cant get these lower intake manifold gaskets by themselves.
$85
http://www.summitracing.com/parts/fe...make/chevrolet
Stock type impregnated silicone gaskets by Felpro these also come with upper and lower intake gakets as well as the centerbolt valvecover gaskets
QMS95817 $42
http://www.summitracing.com/parts/fe...make/chevrolet
You need to run good intake gaskets because, unlike older 4.3's the Vortec 4.3's and V8's use an intake manifold that has 8 intake manifold bolts which sit at 90º to the ground instead of 90º to the gasket face. This puts the gaskets in a constant state of sheer once torquyed. Then as teh engine heats up the aluminum lower intake expands more than the cast iron cylinder head causing the gasket to "roll", then it rolls agains as the setup cools. So every heat cycle causes this to happen. Eventually teh stock gaskets fail. These Vortec engines are notorious for intake manifold gaskets. On my Vortec 350(same setup as your engine) I have used the more expensive kit and havent needed new gaskets in over 100,000 miles. And that is on my 3 trucks all of which have Vortec 350's. The stock gaskets let go within 100,000 miles on average.
Stock style failed 4.3/5.0/350 intake gasket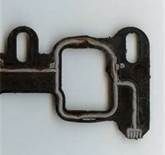 Improved Felpro 350 gaskets, same construction of the improved Felpro 4.3 gaskets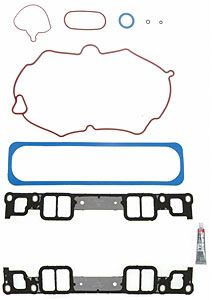 This is a pic of a Dorman improved heater hose connection that screws into the intake manifold, this is made of better metal than teh stock connection. The stock material was pot metal and would easily break off. This is a much better piece.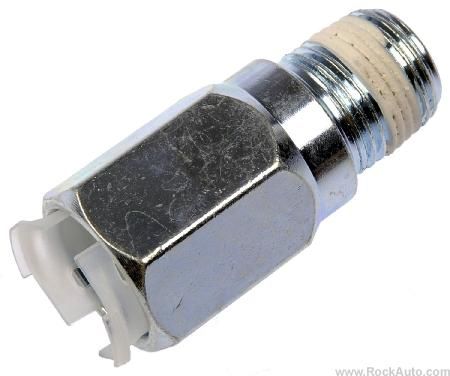 But I suggest you use a standard water nipple such as this type.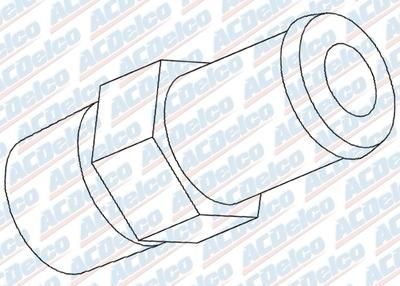 Coolant comes out of the intake manifold through this nipple and feeds into the heater core.
The 4.3 should work very well for you.
peace
Hog