Hi Axel,
Thanks for the kind words.
1986 is a bit new for any wiring diagrams I have around. I tried Autozone's website, but they didn't have a diagram for it either. You might find a diagram at your public library.
What puzzles me is that you say there are only 5 wires coming from the turn signal switch. Seems like an '86 Town Car would have quite a few more wires than that. I would expect a Lincoln turn signal switch to have a minimum of 10 wires:
2 - front turn and dash indicators,
2 - rear combined turn/stop,
2 - front cornering lights,
1 - cornering light power feed,
1 - Turn flasher feed,
1 - Hazard flasher feed, and
1 - Brake signal feed.
But I have very little experience with vehicles as new as the Lincoln your column came from, so I could be completely wrong.
If I had the column in front of me, here is how I would attack it:
1. Clearly identify all turn signal switch wires or terminals with numbers.
2. Make a chart with a column for each wire/terminal and a row for each switch position. Like this:
Then methodically go through each and every combination of wires in all three switch positions checking for continuity with a multi-meter.
I generally go through all the combinations, then change the switch position, then go through all the combinations again.
For the sake of illustration, let's say there are 6 wires.
So starting with the switch in the off position, I begin probing every possible combination of two wires;
1+2, 1+3, 1+4, 1+5, 1+6,
2+3, 2+4, 2+5, 2+6
3+4, 3+5, 3+6,
4+5, 4+6,
5+6.
Then I change the switch position and go through them all again, and again for each switch position.
When I find a pair or trio that are connected, I map out the connections with dots connected with lines in the corresponding rows and columns of the chart, like so: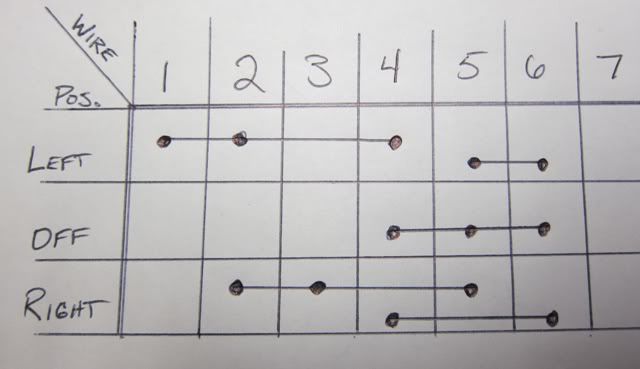 You should notice a pattern.
If you know how a turn signal switch works, you can now use a bit of deductive reasoning to determine which is the RF, LF, RR, LR, Flasher, and Brake feed.
More info on how a turn signal switch works
(click here)
In my example, this is the solution: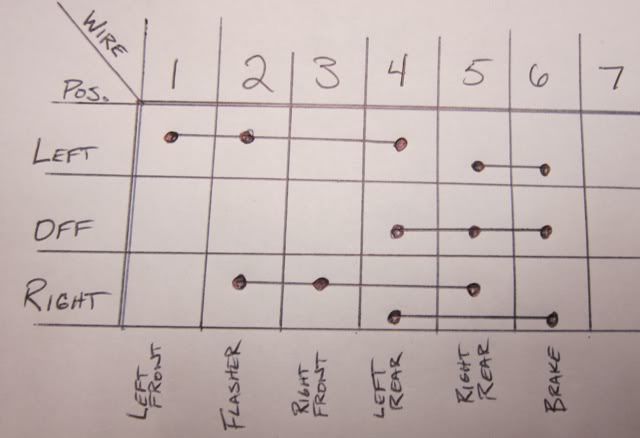 Hope this makes sense.....otherwise make a chart of your switch, post it here, and we can help you figure it out.
Good Luck.....