" Handful to drive " is a subjective opinion ...
I had a 49 F1 with a SBC in it and drove it every where. It did not drive and handle like a sports car but I found it to be very adequate. It is however 60 year old technology.
I am building a 1949 M-47 Mercury pickup ( Canadian version of the Ford F-1 )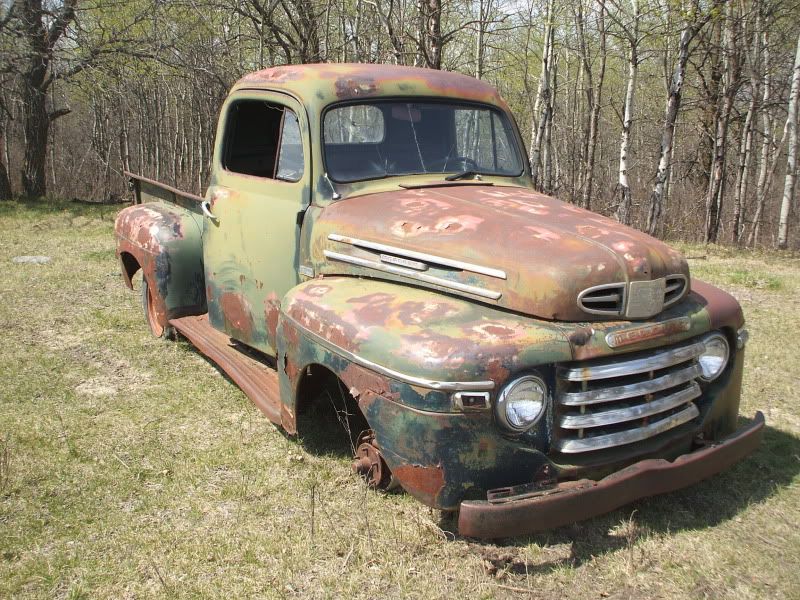 I wanted a lower stance and better brakes so I opted for a XJ-6 IFS conversion ... instead of the Pinto/Mustang II stuff. The Jag IFS is vastly stronger ... and built for the weight of a F-1 more closely than The Pinto/Mustang II stuff. The Jag also matches the wheelbase better
It is also easier to adapt and no kit is required. Complete old Jags are available for the 5/6 hundred range in my area. I like to use the 1980/1986 XJ-6 models.
... the Jag XJ-6 front IFS cradle unbolts from the Jag and is the correct width for the F-1. I also went with a Explorer ( 2001 ) 8.8 rear end with disc brakes. It is the same exact width as the original F-1 rear end and has 31 spline axles, 3.73 gear ratio with a POSI.
The Jag has 4 piston disc brakes, a
POWER
rack and pinion steering system and the very common 5 on 4.75 wheel bolt pattern ( same as a Chevrolet
)
Go here to view the conversion ... done by another F-1 owner.
http://www.ford-trucks.com/user_gall...&albumid=30130
DEUCE ... Suspension - Brakes - Steering Moderator