Sat diver, HT383 ehh? Thats great so here is what you need to do i you wish to run a newer 6 speed 6l80e or 6l90e GM auto transmissions
You need a 58x reluctor ring installed onto the front of your crank underneath the front timing cover.
Then you need to run a 4x reluctor wheel either on the camshaft timing sprocket or in the distributer.
This will allow you to use the newer GEN 4 ECM that the newer GMT800(2007-2013) trucks use.
This will allow you to run any of the newer 6l80e/6l90e 6 speed autos.
Since you have a 1995 Burb, are you still running the TBI, or did yous wap to a Multi Port Fuel Injection(MPFI) injection setup?
If you are running the TBI, I'm betting that you will have to switch over to an intake manifold that uses 8 injectors and fits your Vortec 350 L31 cylinder heads. There are the Edelbrock Vortec MPFI intakes, some Holley Vortec MPFI intakes. For GM you can run the Ramjet 350 intake or even the Marine intake. So long as it holds 8 injectors and fits the specific 8 intake bolt/raised intake runner Vortec cylinder head.
I dont think you can use the newer ECM to control the 2 injectors of the TBI setup.
Here is the key to using a newer ECM which in turn will allow you to run the TCM and 6 speed GM auto trans. It makes 58 pulses58x) for each 360° rotation.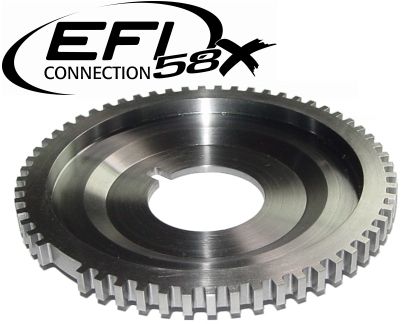 This is the 4x reluctor which replaces the 1x reluctor that the 1996-2002 Vortec 305/350 engines use for a cmshaft position sensor signal. Instead of 1 pulse per rev that the Vortec 305/2350 uses, this will supply 4 pulses per rev which the newer GEN 4 engine ECM requires.
Here is a 1996-2002 Vortec 305/350/454 distributer. Into this, you would install the above 4x camshaft position reluctor wheel, Take the stock 1x reluctor out, and install the new 4x wheel. Instead of the typical crab style distributer cap with 1 coil in and 8 plug wires out, EFIConnection uses this plain cap that they desogned for a cleaner look. This will allow you to run CNP(Coil Near Plug) like the LS1/6/2/7/3/9 L99 and LSA engines all use that run the very short spark plug wires. Or you can run a COP(Coil On Plug) setup that doesnt use high voltage plug wires at all. The coil connects directly to the spark plug. Some of the ETEC 2.0 turbo and Cadillac Northstar engines use thin. But for simplicity I'd use the CNP setup with any 1997-2013 CNP coils.
Here is a stock Vortec 305/350 distributer cap.
[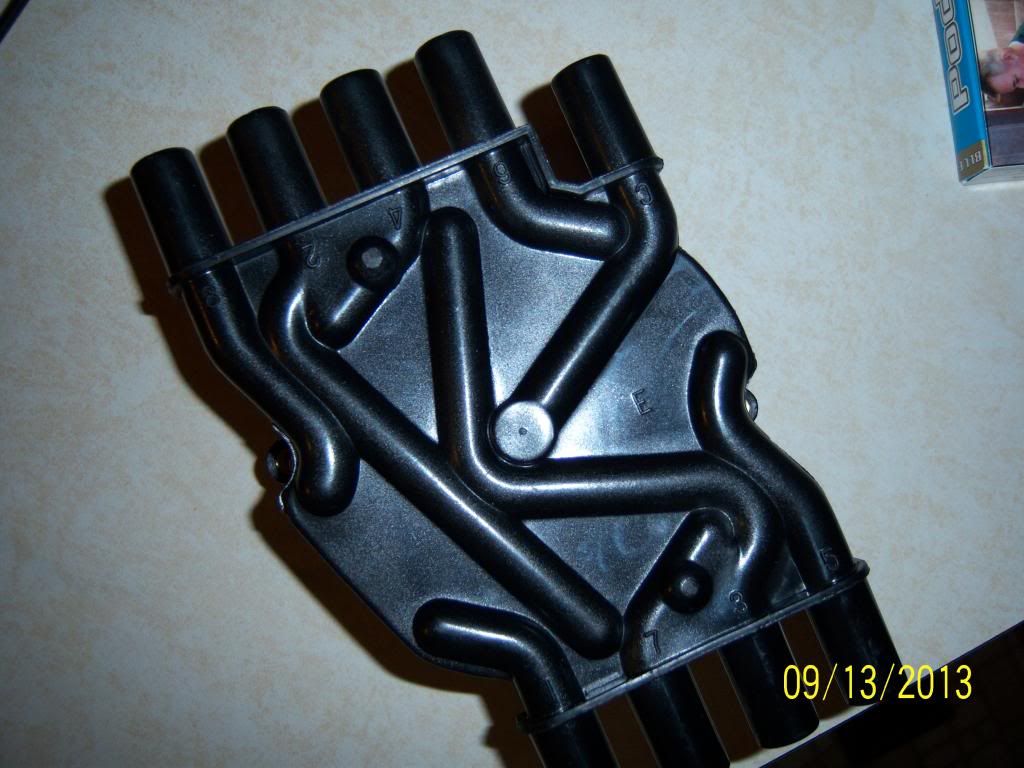 Here is the actual distributer cover that I bough a couple months ago from EFIConnection.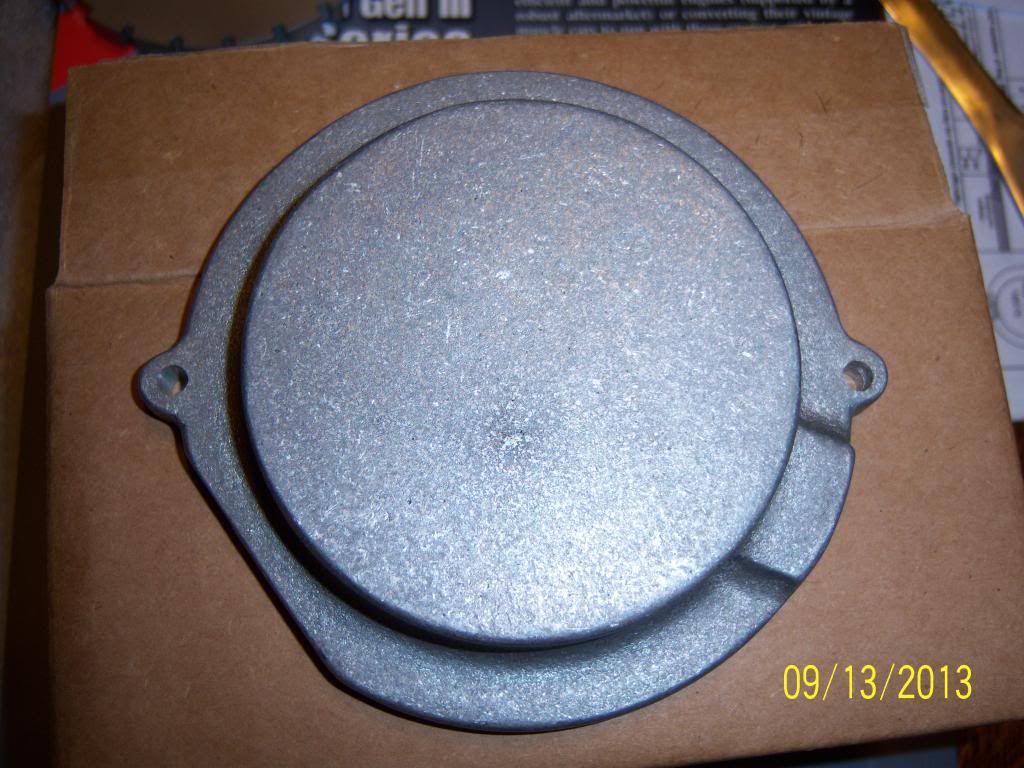 Here is the 24x reluctor that I also bought. It goes under the front timing cover just like the stock 4x reluctor Vortec 305/350 reluctor. High quality, but you do need the 58x unit.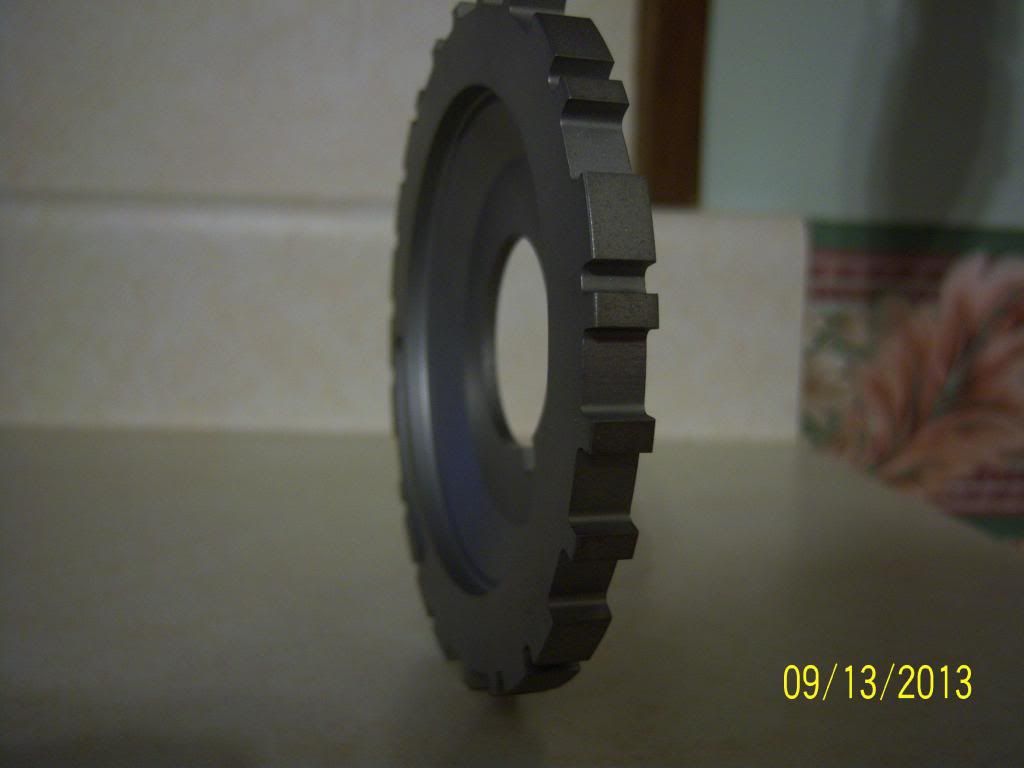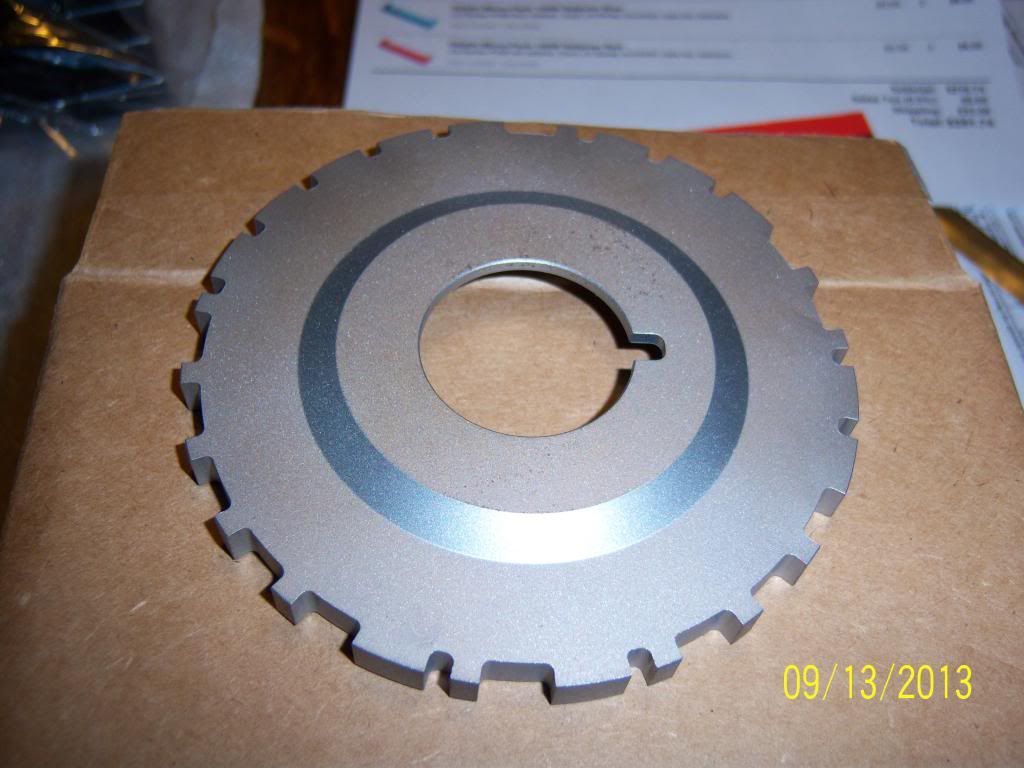 Here3 is a 58x system, setup for a fly by wire or ETC(Electronic Throttle Control) using a TPI(Tuned Port Injection) as that throttlebody. Notice
the coils mounted for CNP on the EFIConnection design coil mount that attaches over the valvecovers, the ETC t-body, the ECM, wiring harness, billet from timing cover to hold the crankshaft position sensor, it also houses the obvious timing chain and sprockets.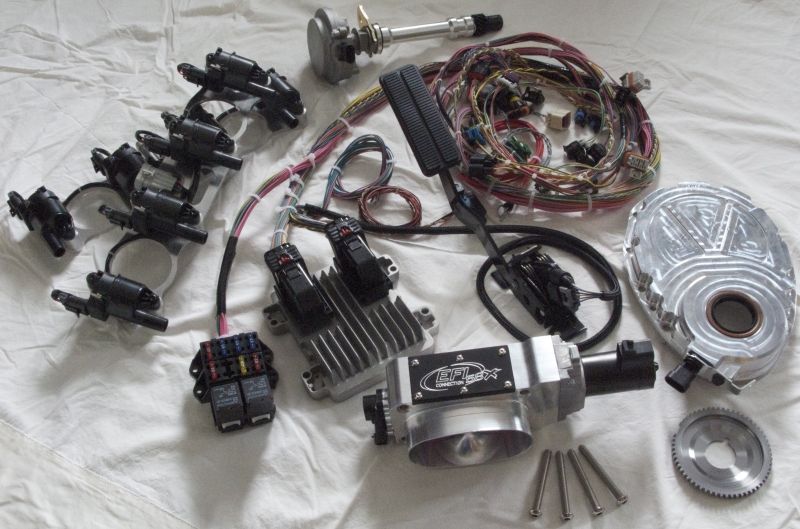 More info on the EFIConnection kit.
EFI Connection, LLC - EFI Connection 58x System
If you wish to run the 58x reluctor wheel in order to use the newer ECM forces you to run the CNP ignition because there was never a newer GEN 4 engine ECM that used the 58x reluctor along with the conventional cap and rotor ignition.
Here are the 4 different camshaft sprockets which 3 of them use for teh camshaft position sensor, instead of using the distributer for the camshaft position signal.
Here are the 2 crank mounted crank reluctor wheel 24x and 58x. GM used the same 24x pattern on a smaller wheel which originally was under the front timing cover. The 1998-2001 BBC Vortec 454(7.4L) that used RPO L21. This was in essence a BBC Chev 454 rpo L29 that has ETC and CNP. This was prior to the L18 496/8.1L GEN 7 BBC in the 2500hd/3500hd which only comes with CNP and ETC.
You should get the book pictured in this picture. It has all teh info about 24x and 58x and stock ignition system, talks about all relevant ECM/PCM/TCM's and all GM MAP/MAF/IAT/knock sensors info from the mid 80's til now.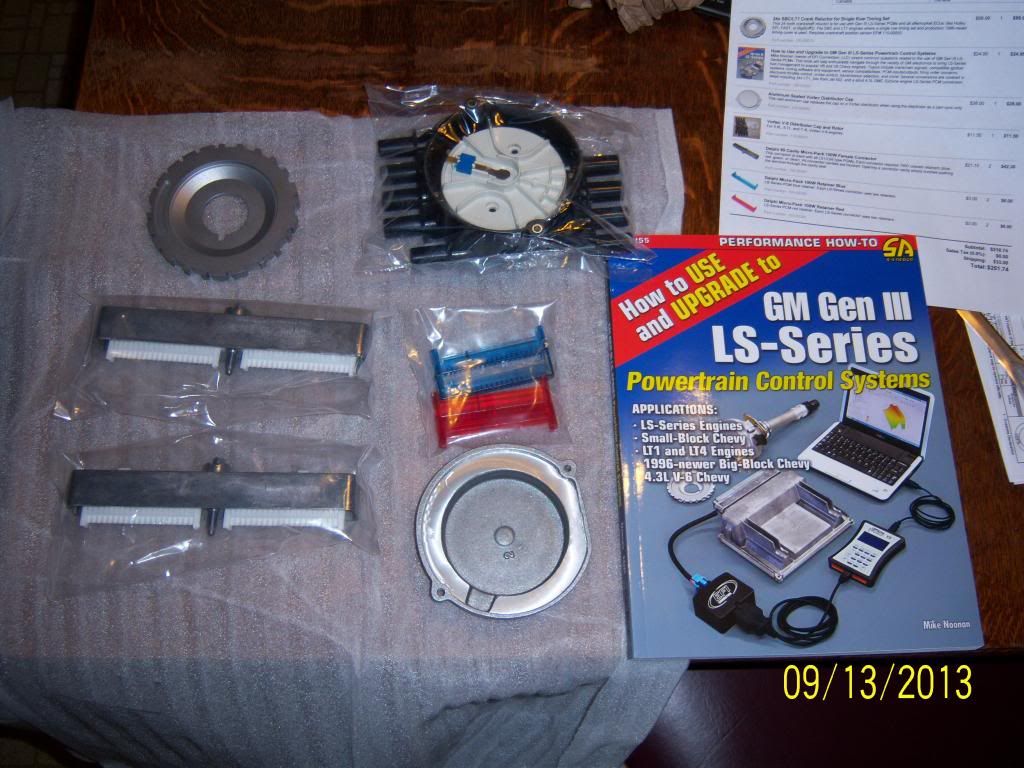 So as you can see, there is a lot of things that would eed to be changed in order to use a GM 6l80e/6l90e rwd auto 6 speed trans behind a GEN 1 engine.
A lot of factors depend on how your a fueling you HT383 in the 1995 Burb and what intake manifold and ECM/PCM you are using.
Do you like your ZZ383? You could do all of the above on it as well.
peace
Hog