The 2001+ 8.1 is a GEN 7 BBC, it is Coil Near Plug CNP. Rated at 340hp and 450lb/ft torque. The GEN 6 Vortec 454 7.4 rpo L29 it replaced was rated at 290hp/410lb/ft torque.
the GEN 7 L18 8.1 uses the different firing order of 1-8-7-2-6-5-4-3, just like the GEN 3 SBC like LS1's and such.
The 8.1 is comaptible with and transmission just like any other Chev engine. The 8.1 came stock with teh 4l80e/85e and the 6 speed manual as well as teh Allison transmissions.
IIRC the exhaust manifolds are compatible.
Back in 2003 GM was using the 8.1 in a marine application for APBA racing. The engine was a truck L18 with ported stock iron heads. It was rated at 525hp and 560 lb/ft torque. It was a standard truck engine with factorry iron ported heads, higher pressure FPR, HP3 specced camshaft by Crane cams, and heavier valvesprings.
The HP3 engine was listed as COMING soon in the GMPP Performance PArst calatogue back in 2003, but the engine was cancelled after much testing as Mercury was choked that GM had a "truck" engine that was beating its high dollar race engines. Mercury was GM's largest BBC buyer so GM dropped teh HP3 program.
HP3 8.1
And the boat it is in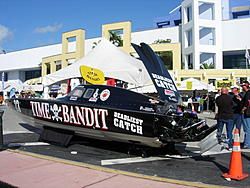 peace
Hog