People have used double rollers under theh stock plastic front timing cover, but you have to fab up a spacer to space the reluctor away from the chain.
There is a timing set that was used for the LT4 Vette engine. It had a stock rev limit of 6412 rpm. I remember the 3 piece kit being cheaper than buying the 3 seperate component by quite a bit of money.
chain 14088783 $51.94
Chevrolet Performance 14088783 - SummitRacing.com
crank sprocket 14088784 $69.95
http://www.summitracing.com/parts/nal-14088784
cam sprocket 12552129 $37.95
Chevrolet Performance Camshaft Timing Sprockets 12552129 - SummitRacing.com
Or the whole kit for $57.95, instead of $159.84 bought seperately. These parts are also used on most of the GMPP crate engines, ZZ4, 330HO, ZZ430, ZZ385, ZZ383, HT383, HT383E etc etc. p/n
12371043
http://www.summitracing.com/parts/na...1043/overview/
Here is a pic of the kit.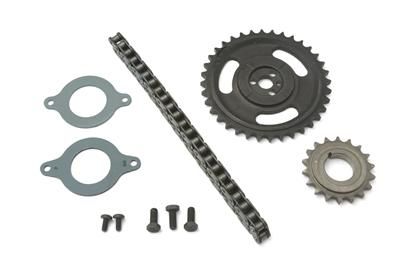 peace
Hog