I personally would simply make it from scratch. Look at how simple the 34 Ford top irons were.
Just using photos of them you could simply copy them. Believe me, making one from another car work, especially a late model car, holy crap that would be a job of the ages. Making one from scratch would be MUCH easier, without any doubt, without ANY Doubt what so ever in my mind.
But if you start this, you could make a model out of cheap conduit for bows and just get the pieces to fold properly fitting in the confines of your car. Then transfer all that over to a little heavier metal and you are on your way.
Take a look at these, how simple can you get!
1932 Ford Top Iron Kit | eBay
And these are only $275! So maybe you could use 32 Irons? I don't know, with the fact that the roof needs to be shorter due to the Duval windshield, these may work. But starting with them makes a LOT more sense than starting with those other ones from the MG or what ever.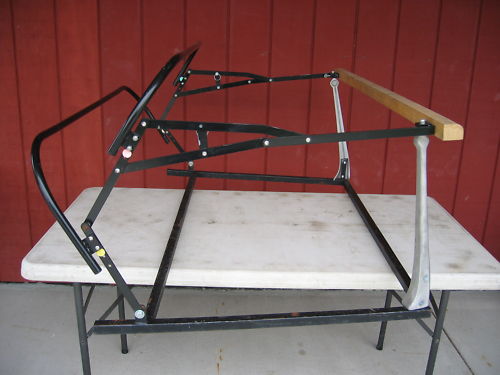 Believe me, I am not making light of the time it would take, it is complex, these top irons, more complex than if they didn't fold. The folding so they all come down as they should and so the top hooks to it properly and all, this is no weekend project. Just rebuilding and aligning the irons on my 65 Buick was a HUGE mind bending project for me. But I can't stress enough, by the time I was into it a little, shaking in my boots, I was soon getting more and more comfortable with it. Next thing you know I am understanding why this and that are built the way they are, I was understanding what I was looking at and it got easier and easier. I ended up installing the top myself, again, SERIOUSLY overwhelmed at first, but it got easier and easier and more understandable and next thing you know I am done. Right now you are standing on the outside looking in, it may be overwhelming. But give it some time, what does a pile of 1" flat stock and some conduit cost? Give it a try!
Brian