Hey all,
I have been unsatisfied with my rides brakeing ability since day one. I have a 57 chevy truck. sbc, 700r4, mustang2 power assist disc brakes up front and drum rear. I figured with that kind of set up, i'd go through the windshield when i stomped the brake. not so much.
I was looking at this snappy pic I took of my truck when I noticed that my caliper sits about 3:00. If memory searves me correctly, it should be closer to 1:30-2:00. Could this be aiding to my crumby brakeing?
[IMG]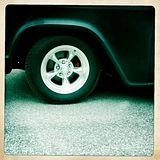 [/IMG]
I have a few other brake threads out there too.
Thanks.