ok, here is your intake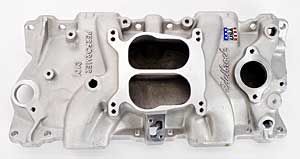 you notice how the intake widens up in the back? you may have a the wrong spacer on that intake. I have a similar intake, in fact it looks exactly the same: my intake weiand 8004:
I recently took off my SPREAD bore open spacer and replaced with a SQUARE bore 4 hole spacer. I had massive vacuum leak since it did not seal the sides where the secondaries are here: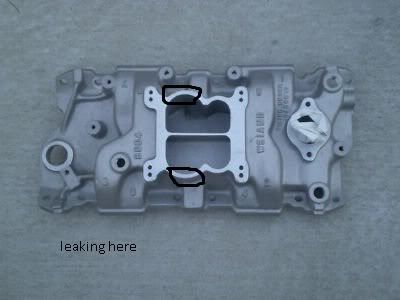 It was leaking from one or maybe both sides of the intake. You might have a smaller diameter square bore spacer on there not sealing the sides of the wider spread bore. That was my problem; loud whistle and hushing sound and not running right. I fixed with this adapter/block off plate here:
http://www.summitracing.com/parts/WND-9006/
"These 1/16 in. thick carburetor sealing plates from Weiand allow a square bore carb to mount directly to a spread bore aftermarket manifold and seal properly."
or you could try mounting the carb on intake with no spacer. Thats my best guess, that 600 edelbrock maybe wide enough to seal it.
I also have same 1406 600 cfm carb too.