Well, I am not a painter...although I do have access to a lot of painters in that I work in an auto factory so for me to find a painter that is good is easy to do because there are guys where I work that have YEARS and YEARS of paint experience...both at work and at home. But I did not ask them...
At the advice of the columnist here and disregarded this guys (
http://www.thebugshop.org/bsfqpnt.htm
) recommendations although I did follow a lot of his stuff...it all seemed like common sense...along with great explanations...
So basically I followed the tech sheets, I did not sand the base, and I was exceptionally careful NOT to get a drip or run, if in the event I did I would not have hesitated to sand but I did not go out of my way to create that condition.
So I follow the recommended flash times while 'spraying' air over the panel during the 'flash time'. After the third coat of base I had to switch to the clear so I waited the recommended at least 15 minutes to 8 hours so, I waited 30 minutes for the base to setup...after the base setup I sprayed on the 3 coats of clear + just a smidgen more around the edges... I know for you 'technocrats' the smidgen doesn't work but it wasn't measured and it wasn't a fourth coat...
After the clear sat overnight, I then proceeded to peel the tape, in that the spec sheet said over 6 hours...so I peeled the tape...it didn't look to bad. Kind of shiny but 'textured'...so I waited for 2 days for the paint to set and the clear to harden up more...
Then I did my clear coat sand... here are my results...
Before...
[IMG]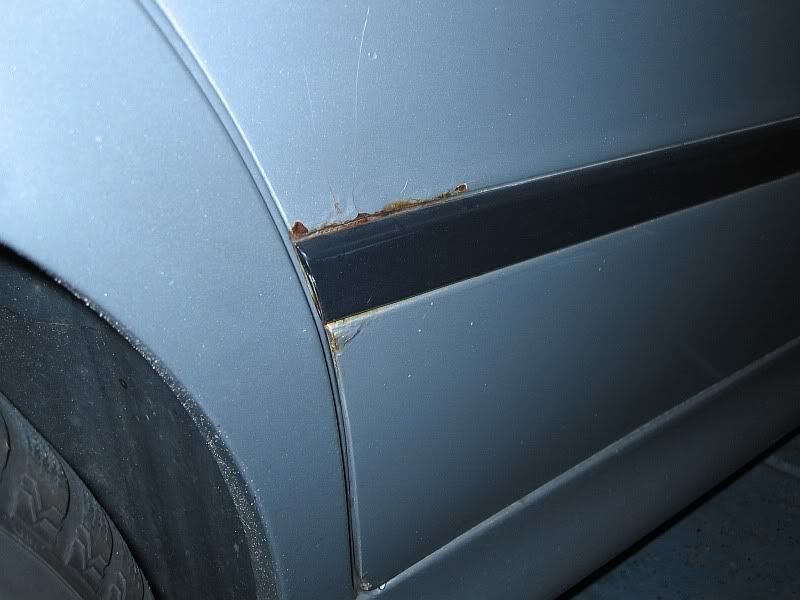 [/IMG]
and After...
[IMG]
[/IMG]
Now I may just have gotten lucky...but everyone that sees it can't even tell I touched it...and believe me...I did.