Quote:
Originally Posted by
roger1
Thanks. It was a bunch of work.
Here's the day I brought it home in Sept. of '09: It was much more rough than the pickup is.
Same shot now:
Very nice shoebox, hopefully my Diamondback, will turn heads, but wont be as pretty as yours. I do have a pretty Belair though.
The diamondback was Dad's old "gasser/daily driver" which was well known back in the 60's with its 50 truck straight front axle and 365hp 327 crate engine.
This is my new, Dad's old car. Back in our family after a 30 year hiatus. Dad would have been proud that I got her back.
And the "pretty car".She was in a 1996 Chev Cavalier Superbowl commercial. And on the 1997 Snap On Calenday, March 1997. Snap On once lifted this car on top of 4 of their Tropical Turquoise tool boxes at a car show. It scored 994 out of 1000 points once and has scored its Platinum Certificate(970+ points) multiple times. One time Mom and Dad found a boat launch, 1 on the PAcific side and they dunked the back tires in the water, then drove cross-counbtry to teh Atlantic side and repeated the process. This was teh 1st Canadian Classic Chevrolet Club car to do this.
Dad bought the car back in 1991 down in Arizona. He trailered it back with the engine in the front seat, cast iron powerglide in the back seat. It arrived at our place in many different colours or primer/paint. Dad did a frame off resto doing ALL work except paint and the actual triple chroming, he polished all his own stainless. I remember wet sanding with 2000 grit sandpaper. My shoulder still hurts LOL. It's a driver and regularly beat trailered Belairs. Even the other "driven cars" that would stay at a hotel 25 miles from the show, then UNLOAD their DRIVEN CLASS CARS off of their TRAILERS and then DRIVE 25 MILES TO THE SHOW. This car would still win the class over them after being driven 500miles, 1000, 1500 miles one way. Mom and Dad regularly won the "Long Distance" awards in the car. Once I get all of their pictures converted to ZERO's and ONES (digital) I will post them for all to enjoy.
We just got her polished up as Mom is taking her to a show in the States at the end of June. She is taking another friedn of hers who also has recently lost her Husband. So the 2 girls are taking the car to the show, the both used to LOVE doing the shows in their old cars.
This is a "seamless" 1957 2 door hardtop frame that Dad didnt get to use. It's in great shape and was used in 5% of Chevs that year, its "supposed to be 80 lbs lighter than teh 2 pice frames and was used in the 1957 strippo 150 series Black Widow NASCAR's that used the Ramjet 283/283 hp engine with dual shocks at each corner, 6 lug hubs. I was going to sell it, but everyone that sees this frame, says I shoudl use it on the Diamondback. I may just do that. Its in great shape.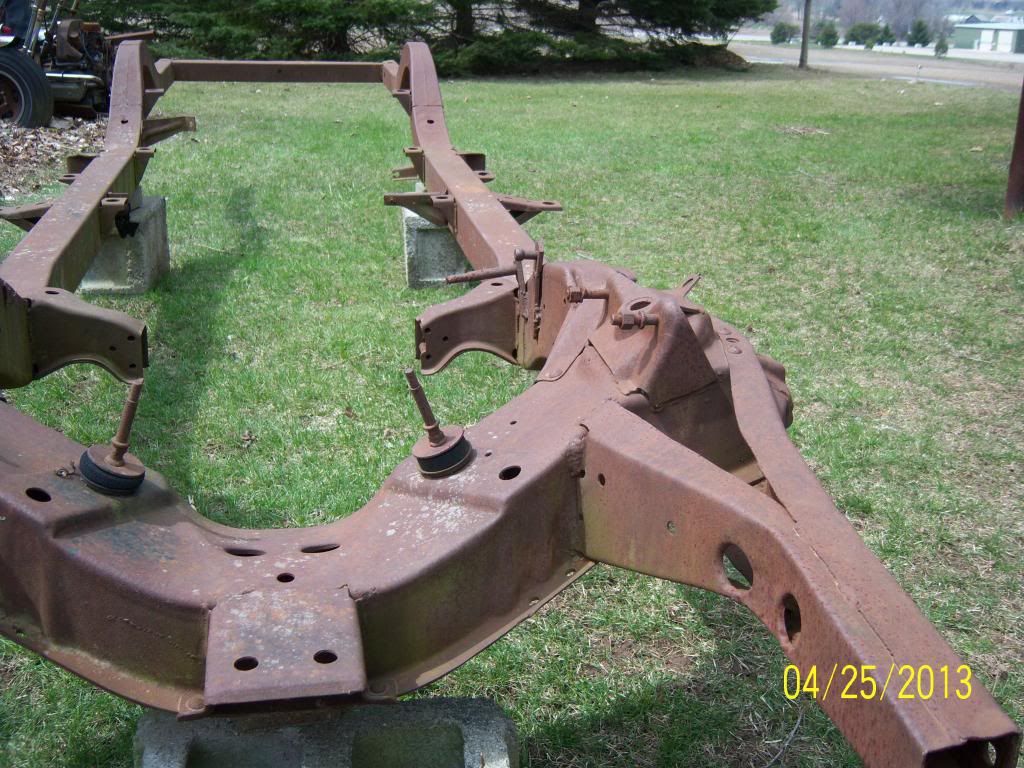 Roger 1, you have a beautiful car and that truck is an awesome platform. I wont comment on your family's appearance(we are ALL beautiful), but it's really nice to see that you and your Wife appear to love cars/trucks and each other very much, and that type of love IS beautiful. I remember my Mom and Dad posing for shots with their cars. I really miss that they cant do that anymore.
Take care!
peace
Hog