Quote:
Originally Posted by Tansmith
I need a windshield and a rear glass for the car. I also need all the parts that go inside the doors for a manual windows. The body mold sucks! Lots of bodywork so not all 32 parts fit.
WELCOME to the world of Car building
Very, very few original Henry Ford 1932 parts fit
any
fiberglass reproduction bodies.
The lower the purchase price ... the less OEM Ford parts fit.
For the rear window ... it is straight glass, so just make yourself a pattern and go to a local glass place ... get them to cut you one
On some of the original 32 Ford coupes, the rear window rolls up and down ( just like in the doors ). Shown is a photo of my own 32 coupe. Mine is a 3W. Is yours a 3W or a 5W ??
as to the windshield ... Depending on your roof line ... chopped or not
Most of the fiberglass coupes have a glued in windshield. Like this one. Most builders use a S-10 windshield rubber and glue in the flat glass cut to fit their body. It is a LOT cheaper ... to do it this way ... than installing a original style windshield frame.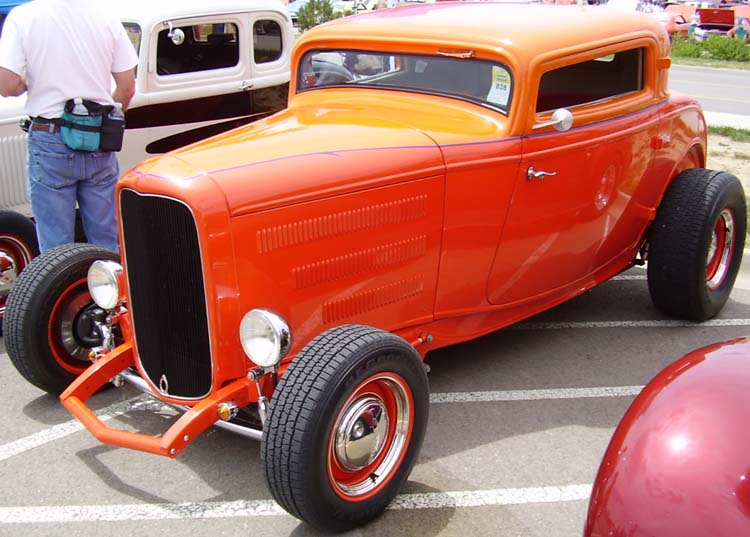 ... BUT ...
I myself like the original look of a windshield frame ... like Henry did it. Some builders of fiberglass cars buy a reproduction ( original style ) windshield frame and then cut around in the windshield area of the fiberglass body to mount a reproduction windshield frame. Below in a photo of my 32 original Henry Ford 3W with the original windshield frame ... the way Henry designed them.
Most of the early V8 Ford parts stores sells reproduction windshield frames. I like to buy from Dick Spadaro in New York. He has good parts, he is very knowledgeable about 32's ... ( he has a couple of 32 Fords ... even a original 32 3W ) and the price and service is GOOD.
Here is his web page
http://www.dickspadaro.com/
As to the window regulators ...
Most builders end up with a kit to install electric windows. I thought I had a photo of the original window regulators but I do not. Here is a photo of the back side of the door. You can see where the regulators bolt in ( the shiny bolt heads ). I used the old original hand crank up ones because I actually prefer them and mine were in EXCELLENT condition.
I bought a old original HOT ROD 32 Ford ... that had been stored since 1958, so ... I got a LOT of good original stuff to work with