Quote:
Originally Posted by
JonnyRed
I appreciate the advice guys. I checked and re-checked that lobe and it always came up short. I will replace the cam now versus later.
To accurately read the lobe lift on an assembled engine, you need a solid lifter or a tool that replaces the lifter and allows a direct measurement of the lobe lift (example below). Using a hydraulic lifter can skew the measurement if the lifter's plunger-to-body clearance is slightly excessive or if the check valve is allowing oil to escape.
You will get a more accurate measurement by eliminating the rocker arm from the equation, too. If you have a roller trunnion rocker, this is much less of a problem than if you are using stamped steel rockers- they can be all over the place, ratio-wise. But measuring the lift at the valve instead of off the lobe isn't as accurate, regardless.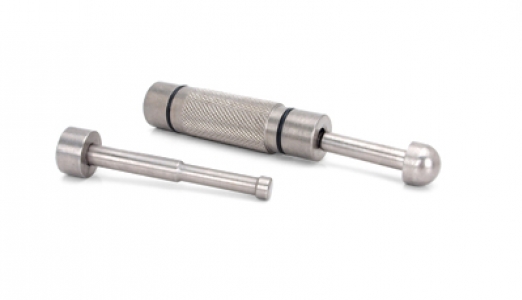 Tool is assembled using the adapter for a roller lifter. The flat tappet adapter is to the left.