Quote:
Originally Posted by
Rochester
Here is a question directed to user's of Cliff's q-jet book. In chapter 6, High Performance Modifications ignoring primary & secondary plates fully vertical and secondary vertical stop are there any mods which are NOT necessary. Which mods must be done?
I don't have that book in fron of me, but I can tell you a few things that may help.
Make sure the secondary air bleeds are clean but don't arbitrarily enlarge them bigger than about 0.034"- 0.035". These are the inner pair of tubes.
Some Ford Q-jets (IIRC) used a perforated tube that feeds the secondary discharge ports (outer, larger pair of tubes). Someone saw that and decided it was a "good thing", and word spread that this was a 'must-do' on any performance Q-jet. This is NOT so, do not drill them. In fact, I would be suspicious of any info coming from someone who recommends this- tells ME they're reading more and actually building Q-jets less.
Some Pontiac carbs have the secondary airvalves slotted to expose the secondary pullover orifices (these act as a sort of 'passive' accelerator pump to richen the air/fuel ratio as the airvalve opens). These carbs are sometimes sold for big bucks as being something special, but they're not- unless they're stamped originally as a rare carb that is. Like drilling/slotting the passive discharge tubes, this was seen and interpreted as being another must-do. Slotting the AV doesn't need to be done, in fact, Pontiac quit doing it not too long after starting it. They (Pont.) relocated the holes to be just under the airvalve lip instead of above the airvalve. This can help smooth out the transition to the secondaries- BUT unless there's a problem that cannot be cured by working w/the secondary pulloff and/or the airvalve tension spring adjustment, just leave the discharge port location where it is.
The secondary pulloff will prollably need work to quicken the opening rate of the secondaries. This is one of the most important aspects of setting up a performance Q-jet. Quickening the opening rate is done by slightly enlarging the orifice in the tube leading to the pulloff vacuum chamber. Trial and retrial here, start by going a little larger until it's too much, then epoxy the hole and redrill. If you use a new pulloff, you might find that it doesn't behave the exact same as the old one, so you'd need to go through the whole thing all over again, except you'd have a better idea of the size to begin with.
Be cautious if you change the ratio of the secondary opening. It's not hard to make the secondaries open w/less opening of the primaries, but if you go too far, mileage will go into the dumper and you might end up w/a bog to boot. This is best left to a stick shift/drag car than a street car.
Don't get overly concerned w/the secondary hangar you use. I don't even look at the letter- I just check them to be sure the metering rods hang level to each other. I've never seen as much as a hundredth of a second gained or lost that I could attribute to a hangar change. I suppose if you used one from the ends of the spectrum (
uber
rich or lean) there might be a diff., but it's nothing to worry about on a street engine.
Secondary metering rods are the heart of the deal, though. I've spent many runs dialing in the secondary rods to get them as good as possible. it wouldn't be so bad, but I have dozens to choose from (good problem to have, don't get me wrong). It's easy to see there's a lot of difference between them. The "jets" that the secondary rods sit in aren't removable so the rods are what is changed.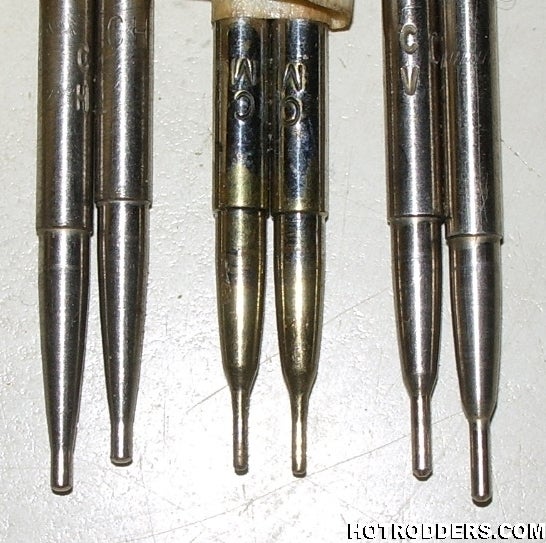 There's a small (~0.030") orifice that feeds the secondary wells from the main bowl (arrows in image below). Be sure these are clean on both sides, but don't enlarge them unless you're running lean after a long WOT run.
Here
is a little secondary tuning info.