i hate to be the bearer of bad news... but there is no way to make a windshield for your truck.
the proper way to chop a task force truck is to cut a windshield and then make the frame fit the glass.
you recommended auto city to another member 18 mths ago and said you had a windshield cut for your truck.
you'll need to make your frame fit the windshield you have cut.
his truck when he brought it home in 2006
there is a builder that recently chopped his truck on the 68-72chevytruck.com forum that chopped his truck and then tried to cut the glass for it.
he learned a hard lesson as it was a nice truck before he chopped it.
there is currently a 59 chevy truck on
ebay
with a lexan windshield that i doubt if you could license in any state.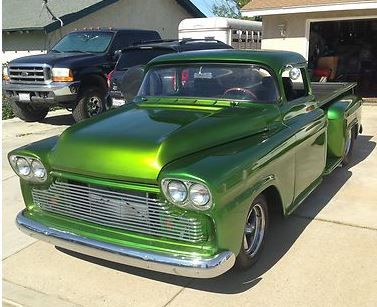 many a task force truck has gone to the scrap yard because of a poor chop.
hopefully you have not painted your truck, with luck you will not have to modify your doors much
speedbumpauto on the chevytruck forum has this truck
he made the frame fit the glass
they do look nice chopped, though at a gimpy, 6'4'' i wouldn't be able to get in or out of it