I think it's a no brainer, there is NO and I mean ZERO cars that you could use as a "donor" car in the usual sense of the word. Where you are using darn near everything from that car, there isn't a car made other than an early Ford (pre 1948) or an early Chevy (pre 1935 or so) that you could use the front and rear axles, engine and transmission. There is simply nothing you are going to go buy today that you could reasonably use much of anything other than the engine, trans and maybe the rear end.
If this is what you really want, a belly tank lakester looking car, make it from scratch. The frame, you can't get much more simple that this! A T bucket like frame made from 2x4 tubing, a welder, a measuring tape and hack saw and a floor to do it on is all you need.
At swap meets you will find stock axles and such for next to nothing, just start collecting parts.
Once you make the frame you make the body to go around it. Again, it can't get much simpler when you talk about bodies than this. Start studying metal shaping and looking at what some of the guys are doing on
http://www.metalmeet.com/
and do it.
Learning to metal shape can take a long time, I have done my share of studying and hands on and I am MILES and
MILES
away from the skills that these guys do to make a fender for a Model A or that sort of thing. But the simple shapes of the belly tank is really not that far off and you CAN pull it off. I have seen many lakesters over the years that were sort of a hand made belly tank, build one. Let's face it, you could make it out of very small pieces of metal and cover the thing in bondo, it really is do-able for just about any skill level. But honestly, you start studying what these guys do and you will be forming pieces faster than you can imagine now.
I once had a real belly tank body from a real lake car about 25 years ago. I can kick myself so hard for not keeping it. But just where to you store something like that without a big shop? It was so damn cool, white with a red nose and scallops, damn it was cool to have.
Brian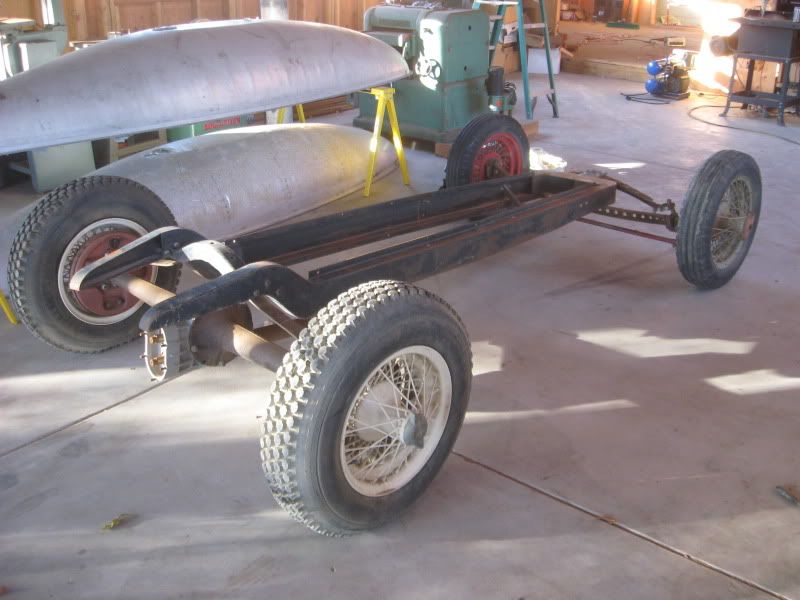 Here's one made from scratch.
Another chassis.
More here..
https://www.facebook.com/note.php?no...34021096633166