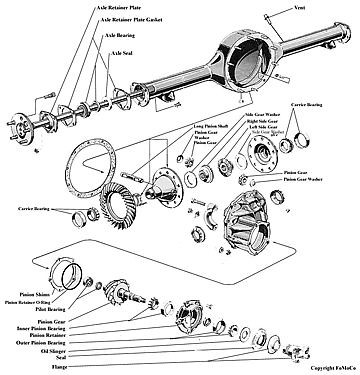 The above exploded photo is of a 9 inch Ford but the 57 Chevrolet rear end is basically the same.
Like poncho62 says ... look at the simple things first. The axle bearings go bad and make noise. The center section could be low on fluid and now needs replacement. The 57 Chevrolet rear end is a fairly easy rear end to work on ( much easier than the later model 10 bolt and 12 bolt Chevrolet rears that came along later ).

Center sections ( like shown above ) interchange from 1955 to 1964. Try to find one with a big " P " ... they are the ones with a POSI.
If you decide to change rear ends completely ... these cars have the same basic rear end widths of 60 inches
55-64 Chevy Car, 67-69 Camaro, 64-67 Chevelle, 68-74 Nova, 71-73 Mustang/Cougar,
The Camaro and Nova are the most used under a 57 Chevrolet. I like to use a 57 - 59 Ford rear end myself. It is 2 inches more narrow and has a wider range of gear ratios and a much better supply of parts available.