what i've know about e.i.system
The first improvement of electronic ignition was to replace the mechanical points with a "solid state" semiconductor switch called a transistor.This is called a "fast switching transistor" to be exact. The advantage of an ignition transistor is that it can conduct up to near 400-500 volts (more power than needed), is extremely accurate fast (in nanoseconds vs. milliseconds), and can last a long time in the heat / vibration of an engine. The trick of course if how to trigger the transistor switch.
The common types of sensor systems that have evolved are: magnetic, "Hall" effect, optical, and (for trivia purposes only) "ECKO". Basically this project has four main elements include transducers (sensor), transistor,signal converter,coil,spark plug and motor (fan).
This project will replace the mechanical to automatic switching system
i need to choose a good sensor and to built a cheapest circuit i can..
Below is the Basic Electronic Ignition Transistors and Pickups Sensors: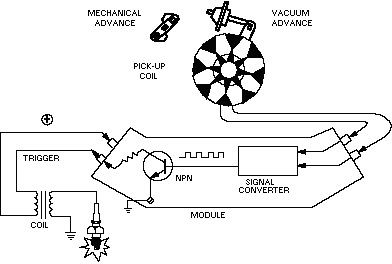 can u help me create a circuit for this?