I wish you a LOT of luck.
I have a friend who bought the Brookville fenders and they were off ( on his car ) a good bit. I have found that most aftermarket frames are too narrow ... by at least 1/2 of a inch. I believe that they are purposely made that way ... so that most any body ( reproduction or original ) will set down on them and slide down over the rails. Factor in using their fender mounting holes, fender brace holes ... and a fender from another manufacturer ...
It is a recipe for DISASTROUS fit.
TCI stuff is usually pretty nice but they are narrow also. I NEVER paint the chassis ... under I have trial fit the body and fenders.
Even with a original frame, carefully built to the EXACT measures on the FOMOCO original blueprints, fitting original fenders to the chassis ... is a on/off ... on again experience. I have quite a few original 32 fenders to choose from ...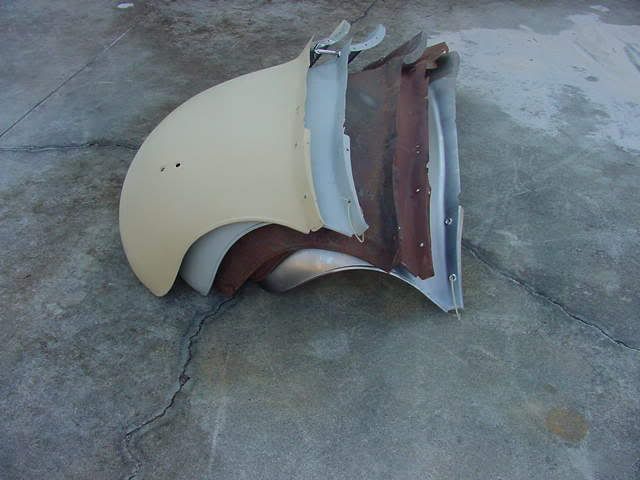 This is just the stack of Ford original 32 right side fronts ...
The left side stack is even higher
... and this is after installing the fenders on my 32 3W ... and having a good fitting set on the 32 roadster.
On my friends car, we ended up cutting the fenders and installing metal pieces in the fenders.
First the fender braces were heated and trimmed, to get the fender bolted down ( with the headlight bar installed ) We clamped the rear of the fender to the running board ... in the correct position ... and added metal where it was needed ... so the fender would touch the frame. After considerable trial and fit ... and mig welding the pieces ... then we had to make the fenders NICE ... top side and from under side ... because he was going to paint the 32 a very, very dark metallic green ( off a Ford Explorer ).
Because you have a Downs fiberglass body ... I suggest you sell your repro metal fenders and buy a set of fiberglass fenders also. Does Downs still sell bodies and fenders. I heard they were sold some time back ??
Fiberglass fenders, as a general rule, are easier to modify for most folks.
I have a friend who bought a set of Wescott fenders to go on his Wescott 32 3W ... and they were NICE. Almost no fitting at all ... ( but he was using a original ... never took apart 32 Ford frame also.
I am not totally satisfied with the fenders on my 3W ... but still gave up ... for now. I bought two pair of fronts and one set of rears ... the other day. When cooler weather comes and the rod run season is over ( Thanksgiving or so ) ... I intend to fit another set of fronts on my coupe ... but the rears I am HAPPY with.