I installed a used f/a natural gas furnace I purchased from A&M heating . I added a small furnace room (4'x4') on the exterior of the garage.
(if you do not have NG, then convert the burner to LP and set up a 100 gallon tank.)
It is installed as a 100% loss system, there is no cold air return from the heated area. I did it this way so I could keep positive pressure in the room. I exhaust the air through a filtered man door opening.
I have considered putting a return duct between the furnace room and the garage for just heating in cold weather. I would put a sealed door on this opening so I could close it for painting.
$100 for the furnace
A friend in the industry supplied the duct work.
$200 for the furnace room materials.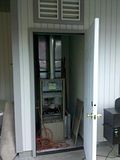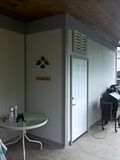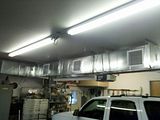 I hope this might give someone an idea how to heat their garage/shop/spray booth cheaply. (well as cheap as energy costs these days
)