So back in the day, my Dad had a 1957 Chev, 2 door hardtop (SPorts Coupe) Belair in Tropical Turquoise paint. From the local Chevy dealership he bought a brand new crate Corvette L76 327 with a single 4bbl carb and fuelie heads, originally rated at 365hp@6200rpm/350lb/ft torque@4000rpm with 11:1 compression, and also a new 4 speed trans and new rear end.
He removed the rear glass and filled it with sheetmetal and then cut a diamond out of it, then filled the opening with a damond shaped pice of glass. This is how the "Diamondback" 57 Chev was born. Dad also installed a 1950 Chev truck straight front axle which made the front end stick up very high, gasser look all the way.
For a grudge match against Jim Oddy, he had installed 5.13 gears, dual 4 bbl intake and carbs. At the strip, he rented a set of slicks. My Dad's friends have told me that Dad was timid in launching the car on slicks as this was his daily driver and he was afraid of tearing the drivetrain up on the slicks. For the Oddy race, and after much goading by his buddies, Dad finally sucumbed and sidestepped the clutch during the launch and rowed through the gears. With the 5.13 gears and a roughly 27" tires the car trapped at 6700rpm, just perfect for the windy 327. The result was a high 13@105mph. Dad ended up beating the Oddy team with his self made daily driver on slicks. That night after the race, the ring and pinion were swapped out for more friendly ratios and he drove teh car to work the next day. The next weekend the dual quads were swapped out for a single 4 bbl carb.
I have the ad where Dad advertised this car in 1972. The ad read, "1957 Chev 2door Hardtop, Corvette 327, 4 speed, headers, Crager rims, Stewart Warner gauges. $2100". He ended up taking $1700 cash for it to a friend, and that money went towards his house. The car then was sold and resold again. It was spotted a few years later. I remember having to be helped up into the front seat because the front end was so hig. I was less than 10 years old at that time.
Then in 1995 I was on leave from the Army and I came home for my Mom and Dads car show they had in town. They closed down a section of town and had the show on the streets. Low and behold, someone had put "Diamondback" on a trailer and showed it at this carshow. It was still Turquoise at this time, it was nice to see it.
Fast forward to 2007. A guy who owns a local sandblasting company named "Digger"phones my Dad and says "I found your 57, I bought it, and I'm bringing it to your place". Within an hour the "Diamondback was in Dad's driveway, again. The car was still the same colour, but it was showing its age, rust abounded, the L76 was gone, the good trans was gone, but Dads hoodscoop and diamond rear window remained. Dad determined that the car was too rough to restore so this guy sent my Mom and Dad on holidays down to the States with his brand new Tundra pickup and a car trailer. Dad drove for 3 weeks looking for a car, they made it to California and turned around. They got a call from Digger telling them that he had found a car 1 hour away. A red 2 door hardtop that would soon become a Clone of the Diamondback.
Digger then brings a large enclosed trailer to Dads shop to store parts. During teh build if Dad needed a parts, this guy had it overnighted. Dad did this complete resto in under 3 months. That is 1 guy starting at 8am and coming in from the shop at 10pm. Dad's house and shop are about 40 ft apart, lets just say, he put in some serious hours. The only thing Dad didnt do was the interiorand bodywork/paint. Towards the end of the 3 months, Dad would come inside in extreme pain, a small spot on his left foot was getting bigger and bigger. dad was a diabetic and his poor circulation cause neuropathy, so he couldnt feel the pain of his foot during the day, but as soon as he laid down for bed the pain was excruciating. He had to sit on teh edge of his bed until his Oxycontin kicked in. I **** you not, within one week of that car being done, Dad had gone to the hospital to have a below the knee amputation. But the car was finished, and what a great clone it was. A ZZ383 and T-56 trans and Ford 9" was installed in the CLone.
Now that many parts had been robbed off of "Diamondback" I told Digger when you are ready to sell her, give me call. Months passed and then I heard that Diamondback had been sold to a guy named Ronny. Ronny was going to rebuild Diamondback back to her former glory. I was choked, but oh well it was pretty rough, she needed a LOT of work.
I find out that Ronnie had a guy doing the body work on Diamondback. He had taken her apart and then started to do the metalwork, New Old Stock (NOS) front fenders were installed, correct rims and biasply rubber was installed, but it became apparent that Ronny's worker was in over his head and the worker was relived of duty. The issue is that no one wanted to step in now to do the work. The car had been stripped, and everyone passed on teh job. So again it was decided again, to build a clone, so Diamond Clone #2 was started. Ronnie forund a straight 57 Chev 2 door Hardtop, Diamond back was stripped of her 50 Chev truck straight front axle and the stock 57 Chev suspension was installed on the Diamondback so she could be moved around the shop. Another hoodscoop that exactly matched the original was located for $400US. Ronnie has spend a lot of money on the 1st rebuild attempt, and even more on the Clone#2 build. The Clone#2 now looks exactly like Clone #1 and like the original Diamondback did when it was in its glory days. Clone#2 now sports a ZZ502 crate engine and of course is painted Tropical Turquoise just like the original.
So a guy who was one of Dad's best friends back in the day and whom we always would visit up North for family Summer holidays,was up from Arizona where he now lives part time for a visit. His name is Dave and he is a brother-in-law of Ronny, the owner of the original "diamondback" Dave tells me that if I am interested, I can have "Diamondback" "en gratis" along with all parts the 57 Chev parts that are in their shop. He said that it was a shell, but that it was a roller on stock 57 chev rims. I was thinking, ok, if this guy is GIVING her away, it must be trashed, all I knew is that the Diamondback was very rough when it was 1st at Dads place, and that she was furthur cut up and stripped for the Clone 2 build. I hadnt seen the Diamondback since 2008.
So I call the number that Dave gives me, unfortunatley Ronnie was away on business, but I was able to talk to Ronny's son Rob. Rob said meet me at my shop at 8pm with a car trailer and you can have her. So I meet him and load the car. He hands over so many parts that it filled the box of my truck, overflowing in fact so much that the truck's suspension is riding on the bumpstops. There is stainless, aluminum, glass, the internals, seats, ductwork. And even a complete 3 speed manual trans attached to a 265 sbc complete with the stock oilbath breather that I can have when I go back. I didnt have ANY room left.
Here is the original "Diamondback" back in Dad's driveway again.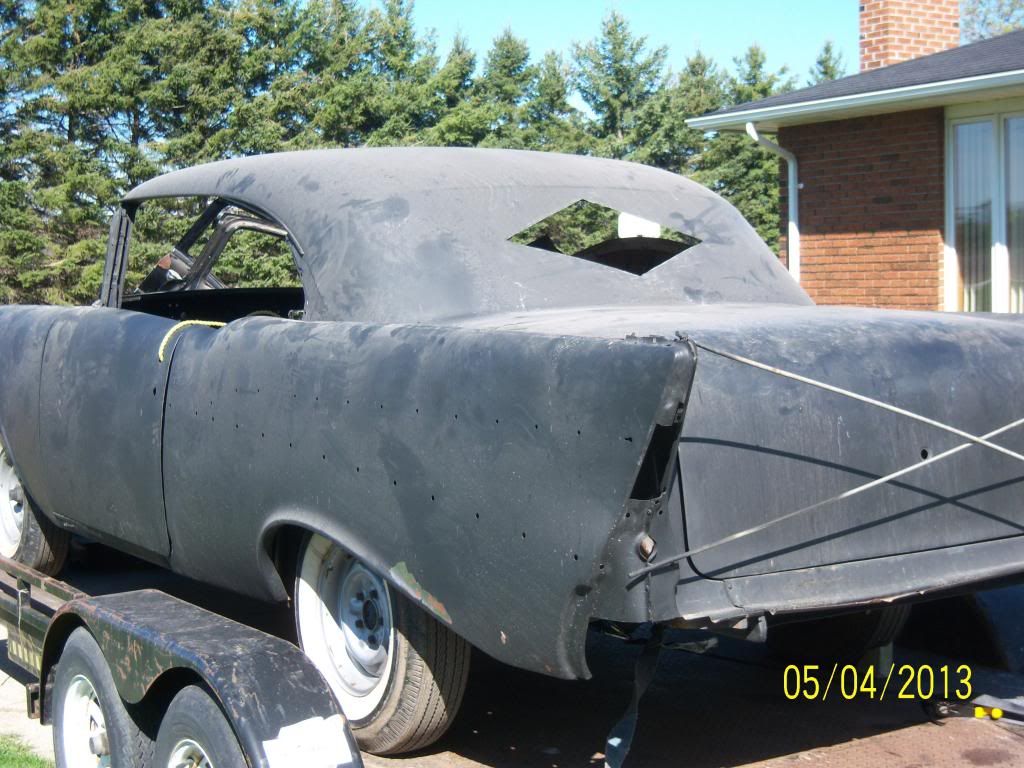 And a couple pics of the 57 2 door hardtop that Dad bought in Texas in 1991 and took 2 years to restore to show quality. It has recieved its Platinum Certificate multiple times. Platinum certificats are give to scores that score over 970 points out of a possible 1000. This car's best score was 993, a very very good score. The best part is that this car is a driver and was judged in the "driven" category. When it used to be shown, it would regularly beat cars in the "Trailered" category.
This is teh car that is in the month of March in teh 1997 Snap-On Tools calaendar, chosen form cars from North America and Europe. It was also used for the 1996 Chevrolet Cavalier Superbowl commercial. I literally went to 2 proms just so I could drive this car. The 2nd prom was for a different school and it was a blind date.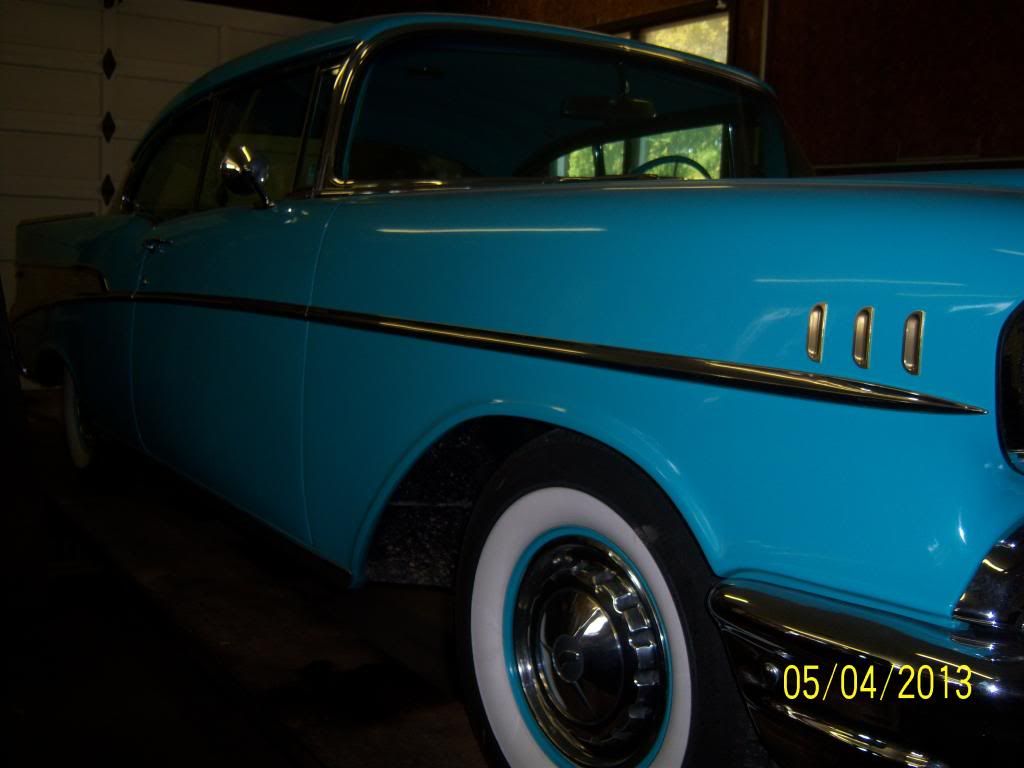 Needless to say I am tickled pink. I am so happy that Digger didnt sell me the car, I have so much more of a car now.
I dont know hwy Ronnie gave me the car. There is much time and money in this car and the parts I cant even fathom what they are worth. There were a lot of guys that were impressed with my Dad's work and their imitation of Dad's car is the ultimate form of flattery. Maybe it has something to do with Dad's passing in August, but hopefully I can build her back to her former glory. At least to something that Dad would be proud of, his "baby" is home.
All opinions, comments, questions welcome.
peace
Hog