Quote:
Originally Posted by 302 Z28
I had a 90 model Chevy full size truck and they were glued on.

Vince
Vince, I am sorry, but they are not glued on. They are plug welded on with four welds per hinge. I know them too well having changed them before. They are without a doubt the worst single mistake in design GM ever did. They fell on their face and broke their nose on that one.
To install this kit you have to drill out the GIANT plug welds from the factory. They are about as big as a dime and VERY thick with a large lump of metal on the back side. On the outside you don't see much as they kept it pretty flush. But you need to drill a 5/16" hole thru the middle of the weld and then sticking a flat ended rotary file into the hole and enlarge the hole on the top side cutting the weld off the hinge only. You then remove the hinge. At that point you take that wire device you see in the photo and screw one of the studs on it. You stick the other end of the wire up thru the hole in the cowl where the door power window wiring comes out. You have to feed this wire up thru one of the holes where you drilled out the welds! You then pull this wire until the end of the stud sticks thru the hole and you unscrew the wire off it without letting it drop back thru the hole into the cowl.
You put a nut on it and tighten it up pulling the stud into the hole onto it's knuraled section so it will stay in the hole. You do this to all four studs and then bolt the hinge on. ONE BIG PROBLEM, remember the large glob of metal I said was on the back side of the weld? How in the hell can this stud sit flush there? It
CAN'T
, that's how. So the stud won't stay there, and won't stop spinning when you tighten the nut!
I will do ANYTHING before I change another. I'll weld up the hole for the pin and redrill it, I will buy the hinge kit and cut a section off and weld it to the original, ANYTHING before I ever change one of those things again!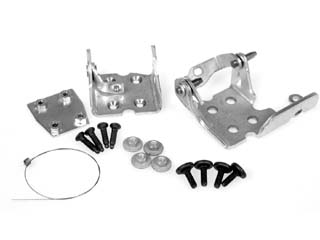 Brian