Added for this end of the year is a chance for the artists to try their hand at designing a logo image for viewing or as an intro into the monthly Hotrodders.com Art Contest to be featured as the opening image to let members and viewers know they are in the contest area. Many of the artists admitted to being a little out of their environment with using more text than images and none let us down, all are fine examples of signature style art work and also as an information source that can be used to show the date and more of each contest. Please stop in and vote for your favorite as the winning image will be a part of each months contest.
Some Artists added more than one image so make sure you choose the right one in the poll. Enjoy and good luck guys !!
Voting will run for 10 days as the poll will close automatically.
Member 57Corvette Logo1
Member 57Corvette Logo2
Member 57Corvette Logo3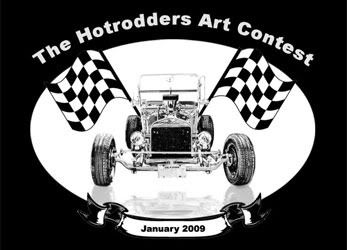 Member 57Corvette Logo4
Member 57Corvette Logo5

Member 57Corvette Logo6
Member 67camaro101 Logo1

Member deuceron Logo1
Member FortyPickup Logo1