Currently we are debating on cutting the front end off and bridge on a mustang front end if it's possible. If we can rebuild this suspension and be able to get dual exhaust system on a 351W we will go that route. But if the factory exhaust was a wrap around and single out the passenger side, will it be a problem getting a exhaust out the driver side??
He wants to build a cruiser that can be driven across the USA, so that has to be kept in mind. It is a 1955 Ford Customline 2 dr, it will have a 351W with a t5 behind it, and a narrowed 9 in rearend. Also if we rebuild the front suspension to stock, we still want disc on the front. So is there a kit to convert front drum to disc?
here is what we got to work with,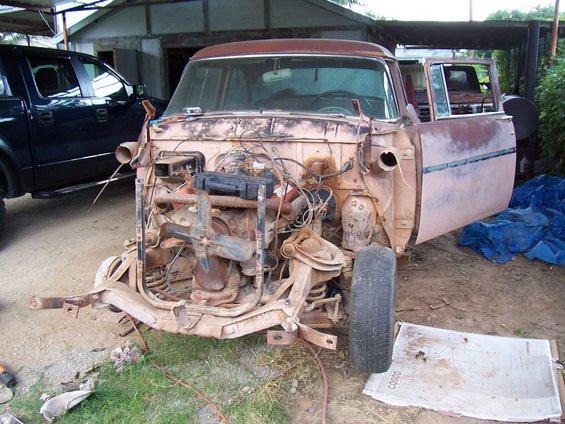 build motor mounts won't be a problem if it's feasible. But Figured I would post up and see if anyone knows a way of doing it, or if there is a kit already out that will make it easier.