Quote:
Originally Posted by
spinn
Are you suggesting something?

Do you think the gasket was compressed incorrectly. Like it was 2lbs, 5, and 11lbs. This would cause a failure?
No not at all, I was just going through a Chev Performance catalog earlier and saw the specs.
11 lb/ft feels like no torque at all, if it werent for the spec. I would use a little more torque.
The Vortec 305/350 trucks engines are notorius for intake gasket failures. the bolts apply the claming force are not perpendicular to the sealing surface. Since Vortec heads are iron, most intakes are aluminum(L30/31 are aluminum) so with every heat up/cooldown, the differnce in expansion/contraction rates between the heads/manifold start to roll the gasket. Also when Dexcool is exposed to air, like what happens in an underserviced cooling system, it becomes corrosive, corrosive enough to etch the cast iron heads. All these factors combined cause failures in the gasket seal.
Originally GM heralded the encapsulated silicone Vortec gaskets as reusable. This was later found to be false. Gm has redesigned these gaskets at least once.
Stock encapsulated silicone Vortec intake gasket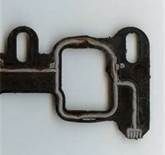 Felpro Vortec problem solver intake gaskets $69.99 These gaskets have metal caging in them.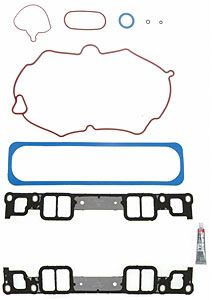 GMPP offers a paper Vortec gasket($41.00)
12497760
Gasket Kit, Vortec Design
• Designed for Vortec heads P/N 12529093, P/N 12558060,
P/N 12464298 and P/N 12497186 only
• Gasket thickness is 0.120" (1/8"), post size is 1.080" x 2.160"
with tapered wall
• Has both early style 6-bolt pattern and Vortec 4-bolt pattern
• Includes 2 gaskets
they appear to be the same as FelPro 1255 Vortec gaskets for $33.00

peace
Hog