i'm hoping to find an easy solution for a upper and lower radiator hose.
Parts
----------------------
1977 350 SBC
short water pump
V Belt pulleys
here is the alternator bracket
Griffin double core radiator
Photo of accessories bolted on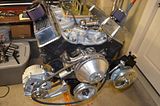 photo of alternator bracket and water pump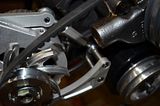 NOTE:
the alternator bracket is designed to work on the drivers side. I've taken the bracket and flipped it to the passengers, since I'm using an electric fuel pump and power steering.
Photo of the radiator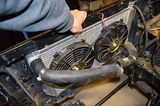 The radiator has been moved forward 3" from it's previous location. The top hose is now 3" too short. The bottom hose previously used was with a different alternator bracket.
Does anyone know of a supplier or shop that has mandrel bent tubing in various angles that i can splice together, OR one that can be provided measurements, photos and cad image to bend a pipe to fit?
i know it's a long shot
chris<pixelmonkey>