Quote:
Originally Posted by
cdminter59
I found this statement on another forum that the guy was having the same problem. A guy at a local shop here, told me that you're supposed to put the power tower adapter on the coil, THEN turn the top terminal and it will tighten and get snug.
This is correct IIRC- I used the post mentioned above. This wasn't my car, but I installed it.
Part of the idea behind using it is to prevent any arcing caused by the increased output. Whether that's really needed, I cannot say; I used the post and had no probs, though.
Found this at Chevy High Performance mag: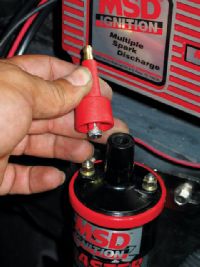 "This Power Tower adapter comes with the modified dustcover and coil wire portion of the Super HEI Kit. To attach it, the socket-type plug end is unscrewed and the adapter is placed into the female-style plug opening on the coil. The plug end is then tightened, which expands the inside of the adapter against the coil opening, holding it in place."
Interestingly, I thought I remembered there being instructions included for installing/tightening it, but the MSD forum has several questions on how to install it and the tech there said to just install it like any HEI plug wire. Which we know is wrong...
Power tower adapter install instructions [Archive] - MSD Tech Support Forums