Nice car. You probably won't be able to remove the streetrod emblem on the fender. The one's I've seen have to have holes drilled for mounting. You'll have holes left in your fenders. Same for the hood badging.
I would also lose the Ford script on the radiator air dam. You have a Chevy engine, so you're not going to fool anyone. The air dams are available reproduction, so you can get rid of the mounting holes.
The chrome fender welting looks cheap also. Welting is available pretty cheap in lots of colors. Not to difficult to replace either.
If you remove the flamed chrome door sills, you may find rust under them. These cars are bad about rusting in that area. I would just leave them unless you intend to repaint the car.
American Racing Torque Thrust 2 wheels look nice on these cars. I've seen a couple and like them. If I was going to replace the wheels on my 46, I would consider them myself.
As others have said, tune it up and drive it. Fix any driving problems before you dive into any other changes. Make it safe and dependable.
BTW - I've been driving this car for 18 years. Those are steel wheels from Early Wheel Co. The rings and caps are 41 Ford repros. I'll probably be changing them sometime in the future.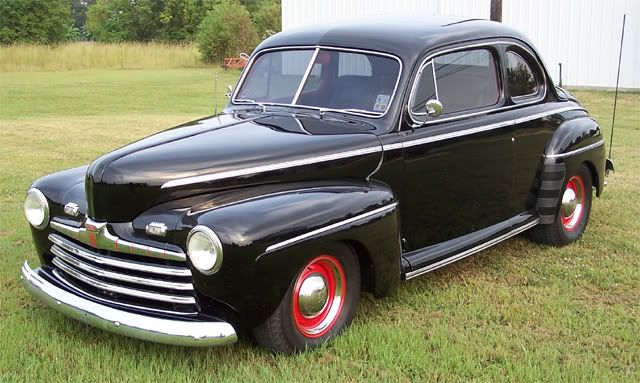 They make great cruisers. They're heavy, though. Great for a good ride, but they take a bunch of power to get them to move out quick.