I need a lead on a specific muffler, hopefully someone will have a suggestion.
The car is a 1962 Olds F-85 wagon. The muffler sits crossways behind the rear axle, like a Camaro. This car has a 215 cu in aluminum V8 and is very low, so the factory exhaust is a single 2" pipe that runs in the tunnel next to the driveshaft. I've fabricated a 2.5" exhaust pipe that follows the stock location using a Dynomax intermediate pipe for a Camaro (I only needed to make a small pie cut over the rear axle and it fits great) and fabricating the front section from mandrel bends and straight sections. The problem now is the muffler. My original plan was to use a Dynomax Super Turbo 17739, which is the Camaro style with 2.5" inlet and dual 2.5" outlets.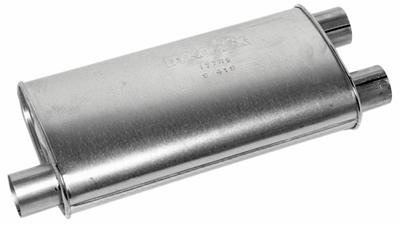 Unfortunately, the body is nearly 10" across, and it becomes a tailhook at the back of the car.
I stumbled across a Magnaflow Camaro muffler, P/N 12265, same inlet and outlets but the body is only 5"x8".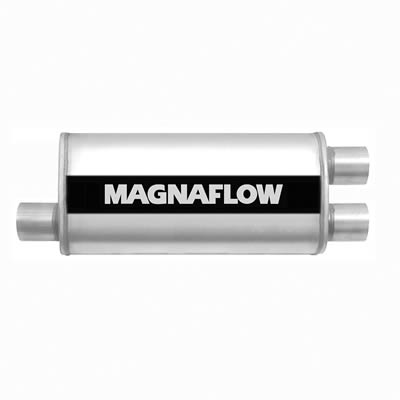 This one fits much better, but is louder than I'd like. The question, naturally, is, does anyone know of a Camaro-style muffler (single inlet, dual outlets on opposite ends) with 2.5" inlet, either 2.5" or 2.25" outlets, and a body that's no larger than about 8" diameter? Yes, I'm aware that Magnaflow makes a version like the one I have with the smaller outlets, and yes, it may be a little quieter. Understandably I'm hesitant to blow another $100 on a too-loud Magnaflow. I like the Dynomax Super Turbo sound, but all of their Camaro-style mufflers are 4.25" x 9.75". Thanks in advance for any help.