Deuce
WELCOME to Hotrodders.com


Why do you want to change from 4 to 5 ???
Is your front wheel pattern 5 lug?

Representative for comparison purposes only
Ford Outside
Width Year Model




56.50 1969-1977 Maverick 8"
57.00 1974-1978 Mustang II 8"
57.25 1957-1959 Ford, Ranchero, Station Wagon
57.25 1965-1966 Mustang
58.00 1966-1977 Bronco
58.00 1964-1965 Falcon
58.00 1977-1981 Granada/Versailles
58.50 1977-1981 Versailles
59.25 1967-1970 Mustang, Fairlane, Comet, Cougar
60.00 1967 Cougar
60.00 1958-1960 Edsel
61.00 1964-1971 Ford Full Size
61.00 1949-1951 Mercury
61.25 1957-1972 Ford F-100 Pickup
61.25 1960-1964 Ford Full Size
61.25 1971-1973 Mustang
61.25 1967-1973 Torino, Ranchero, Fairlane
63.00 1970-1979 Ranchero & Torino
63.00 1972-1979 Ford Full Size & Intermediate
63.50 1967 Fairlane (Coil Springs)
65.25 1973-1986 Ford F-150 Pickup
65.25 1978-1986 Bronco
65.25 1973-1986 Ford Van 3/4 Ton
68.00 1972 Ford Van 3/4 Ton
69.25 1977-1986 Ford E-150 Van

Chevy Outside
Width Year Model

54.25 1983-2004 Chevy S10 2WD, GMC S15 2WD
57.75 1962-1964 Chevy II/Nova .... what is your width NOW

57.75 1965-1967 Chevy II/Nova
58.00 1978-1988 Chevy Malibu, Monte Carlo
59.50 1968-1982 Corvette
60.00 1955-1964 Chevy Car
60.00 1967-1969 Camaro
60.25 1968-1979 Chevy II/Nova
60.50 1984-1995 Corvette
60.50 1964-1967 Chevelle
62.00 1955-1959 Chevy Pickup
62.50 1968-1972 Chevelle
62.50 1970-1981 Camaro/Firebird


Mopar Outside
Width Year Model

55.60 1960-1976 7 1/4 A-body
55.60 1973-1976 8 1/4 A-body
55.60 1966-1972 8 3/4 A-body
55.60 All 8 3/4 A-body
56.00 1932-1934 All Mopars
57.40 1963-1972 7 1/4 A-body
58.54 All 8 1/4 F-body
58.54 All 8 1/4 M-body
58.54 All 8 1/4 J-body
59.00 1935-1936 All Mopars
59.14 1966-1970 9 3/4 B-body
59.20 1962-1970 8 3/4 B-body
60.00 1937-1948 All Mopars
60.70 All 8 3/4 E-body
60.70 All 9 3/4 E-body
62.00 All 8 1/4 B-body
62.00 1971-1974 8 3/4 B-body
62.00 All 9 1/4 B-body
63.40 All 8 1/4 C-body
63.40 1971-1974 8 3/4 B-body S.W.
63.40 All 9 1/4 C-body

Going by the above chart ... a 1957/58/59 FORD rear end is 1/2 of a inch more narrow. That would be my choice. BUT IF you want to go with a Chevy rear end
the 58.00 wide 1978-1988 Chevy Malibu, Monte Carlo would work.

The 9 inch Ford is the most popular rear end swap going ... because of the ease of working on it and finding parts. It is stronger than most any of the other rear ends listed.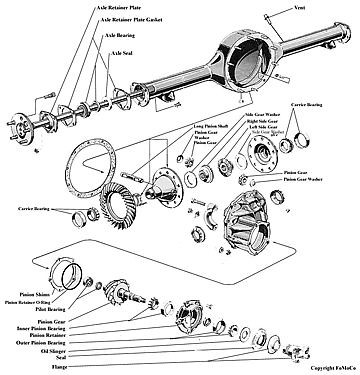 I always use the 9 inch Ford under all my projects.


DEUCE ... Moderator