LandonL
Are these the correct bearings?? (main bearings)
---
Alright, everything was going great once again on putting my engine together until I got to the point of starting reassembly. The engine is a 1967 250 Straight-Six. When I went to start putting the main bearings in, I noticed the big oil hole didn't line up on the #1 main bearing, however the cap's bearing fit in fine. These are for a .010" undersize crank, I checked the back of the bearings read .010"

The bearings I ordered were Sealed Power Part#4124MA10 got them from Rockauto. All other sites that sell the product all list the same picture (that matches the ones I recieved.)
This picture is the following I provided the stock picture, and one from above I saw on eBay that are my exact bearings I recieved listed under the same part#
Picture of what mine look like, every other website has the pictured ones below.




However, summit racing has a different picture, and these look like the original bearings I pulled from the engine in the first place.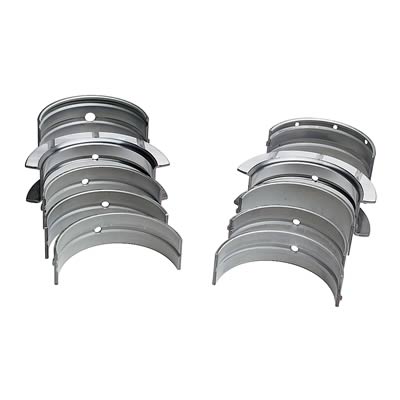 The bearings I recieved are in the first picture, and all sites who sell oversize bearings for the 250 L6 have those in the first picture pictured. (Which is what I recieved). However the bearings summit have listed are the same ones with the same part # etc, they have a different picture which looks exactly like the main bearings I pulled out of the block when I started the rebuild. The oil passage when the bearing is fitted into the block is not covered up beacause there is a strip in the bearing that would allow oil to flow through, I don't see why however they just didn't manufacture the oil hole where it should be, or do I have the wrong bearing?? Please someone help me lol

I'm not really sure how they could've sent me something wrong, it's for a seven bolt main (which the L6's are) and the oil passage on the thrust bearing matches up(but it does have two holes) I just don't know what to think.