Ok so, I had to take out the crank I spec'd out and dropped in on Tuesday because the bores need to be opened up about .001".
The crank bearing clearance is between .0023 and .0027 on all the main journals. I checked via a mic and dial bore gauge using a transfer method (measure journal, then zero out bore gage on mic etc...). Took five measurements of each bearing using the dial bore gage, just to make sure every one was within a tenth. I then double checked with plastigage just to be sure, everything matched up.
All journals had no appreciable out of round or taper that I could pick up. No knicks or roughness on any journals.
The motor was assembled with assembly lube and all surfaces had a nice coating. Bearings are 77 P's. Bearings have witness marks from dial bore gage but nothing to worry about. I spun the crank by hand probably a dozen or so times that night and it felt good, no binding or undue friction, just silky smooth.
Today after pulling out the crank I looked down and saw that the #2 main bearing has
some light wear in the bearing on one side (see pics)... just through the flashing.
The #2 Main bearing in the cap shows no wear. The one in the block does have the flashing wear.
The hell is going on here? Worry, dont worry?
NOTE: Bore Gage witness marks are very Exaggerated due to the flash.
They are not near that profound.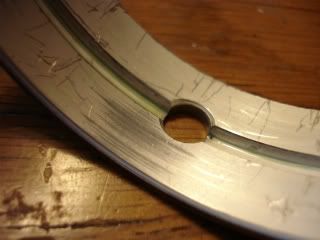 I would have never of seen it had the crank not come back out. Sometimes ignorance is bliss.