Beenaway2long
Graphic Artist Challenge #2
---
OK, the drag car is coming along pretty well. Using Malcs paint scheme idea, and incorporating the name "Monte Python" suggested by a HR member (sorry, I think it was Malc), heres what I want to do.

Using a cartoon snake ....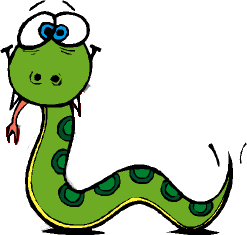 and a blown motor similar to this....
http://www.hotrodart.com/ruckus46.jpg

I want the snake to wrap around the motor, distorting the motor. The snake should weave between the zoomies. For added effect, I would like pistons flying out of the zoomie pipes. I would prefer not to have the BDS symbol, a bit more spacing on the pipes, with even the pipes distorted. The whole concept would be to show that snake squeezing the snot out of the motor. I have access to a Roland printer, so if the artwork is clean enough, I can print right on vinyl.