Well, I just picked up a second 42/44" (extra 2" is the handle) roller box and a second 17" side box. Seems that it was time to get my work bench built. So I put them together with a 36" gap in the middle for storage and a spot to sit at the bench.
I don't have a frontal view because of the room in the shop to get the full 13' width of this construct! Here is an angle view which of course immediately started getting filled up with parts and tools.
I still haven't filled out the new 20 tool drawers but I am sure they will all get something hidden away in them!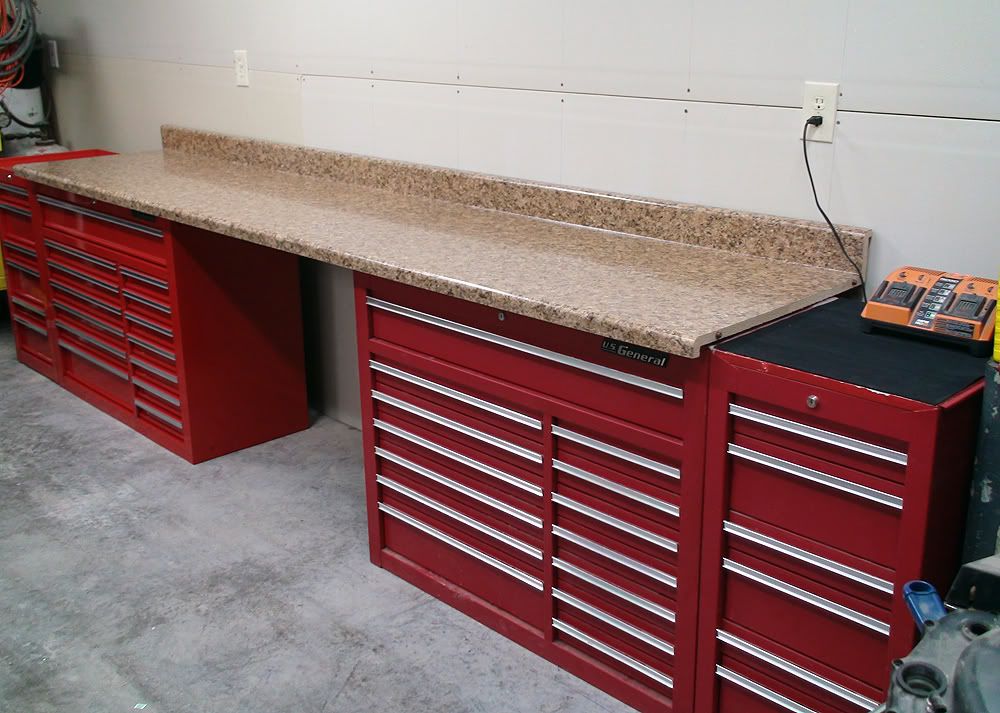 I will add quad wall plug-ins later, after the Electical Inspector checks the number of sockets on the GFCI circuit. Being a single operator in the shop it is not a situation where I would be using more than the 6 sockets + one 50watt outside light/switch at the same time but Code says 7 total so I won't take a chance on him saying no to the layout.
Swiss
Forgot to mention that they have an advertised special weekend sale price on the 42/44" 13 drawer roller box for $359 right now. Will probably go back up to the normal $379 sale price after the weekend. Sears and Home Depot have also had 42" and 52" boxes recently on sale for around $450 or so but they do not have the dual ball bearing slides on the deeper drawers. The HF General units also come with rubber drawer liners which are extra on most of the other brand boxes.