This graphic is from the maliburacing.com tech page and is an excellent example of what NOT to do. When you read the fine print it says, "Keep in mind that these pinion angles are for competition." If you set your pinion as recommended in this pic on a street driven vehicle, as Willys36 says your drive shaft won't be under the car for very long.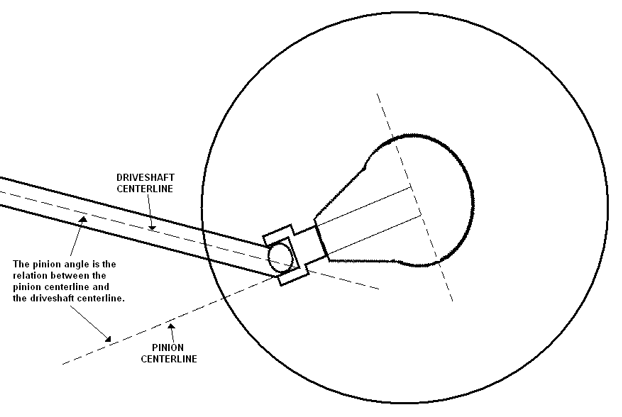 The pinion angle is NOT what is stated in the above pic. The pinion angle is the angle of the pinion gear as it relates to level, not the angle of the drive shaft.
For any street driven vehicle the angle of the transmission output shaft and the pinion angle should be parallel. For best results the total of the two angles shouldn't exceed more than 6*. Anyone who recommends something different is just plain wrong... unless they're talking about "racing". The setup in the pic above will work for racing because..... Under extreme acceleration there is a tendency for the pinion gear to try to "climb" the ring gear. When this happens the effective pinion angle winds up being roughly parallel with the trans output shaft. Make no mistake about it, this setup will NOT last for long on the street.
For a street driven vehicle the following are the recommended settings.
For a more detailed explanation on how to properly set pinion and driveline angles check out
Inland Empire Driveline
.
Centerline