Quote:
Originally Posted by
hduff
When wiring a remote starter solenoid, I find the following three methods.

...

Or is the correct choice D: It depends.

The car I'm working on ('54 Desoto Firedome) was wired like A, but had a seperate wire to S that paralled the heavy cable. I replaced it with a jumper as in A, but the starter is not working (it's been re-build, all new BAT cables, etc.) Can that really make a difference?
If you're trying to wire it as it was when it was new, the answer is "D", but "B" is would work, and so would "C". If the remote relay you are speaking of is the stock starter relay, then "A" is the only really wrong answer. The stock start relay is not designed to carry the high amperage that diagram "A" would send through it.
The starter relay may look like a remote solenoid, but it works differently. It controls the power to the "S" terminal on the starter, not the main power to the "B" terminal.
In your car, the purpose of the starter relay is to enable the starter function only if two conditions are met:
A. The transmission is in neutral (neutral safety switch contacts closed)
B. The engine is not already running.
(to avoid brain explosion, skip the next paragraph)
To accomplish condition B, the starter relay control coil grounds through the generator armature via it's connection to "A" terminal on the voltage regulator. When the generator is not putting out, there is low enough resistance through the armature windings to ground to enable the start relay. If the engine was already running, there would be power there instead of ground, which would inhibit the function of the start relay.
Confused yet?
To replace the stock start relay with a modern replacement and still maintain all the functionality of the original system, wire it exactly as shown in diagram "C" except connect relay pin 85 to the voltage regulator terminal "a" instead of ground.
Here is a simplified version of the original wiring diagram showing only the wiring related to the start circuit: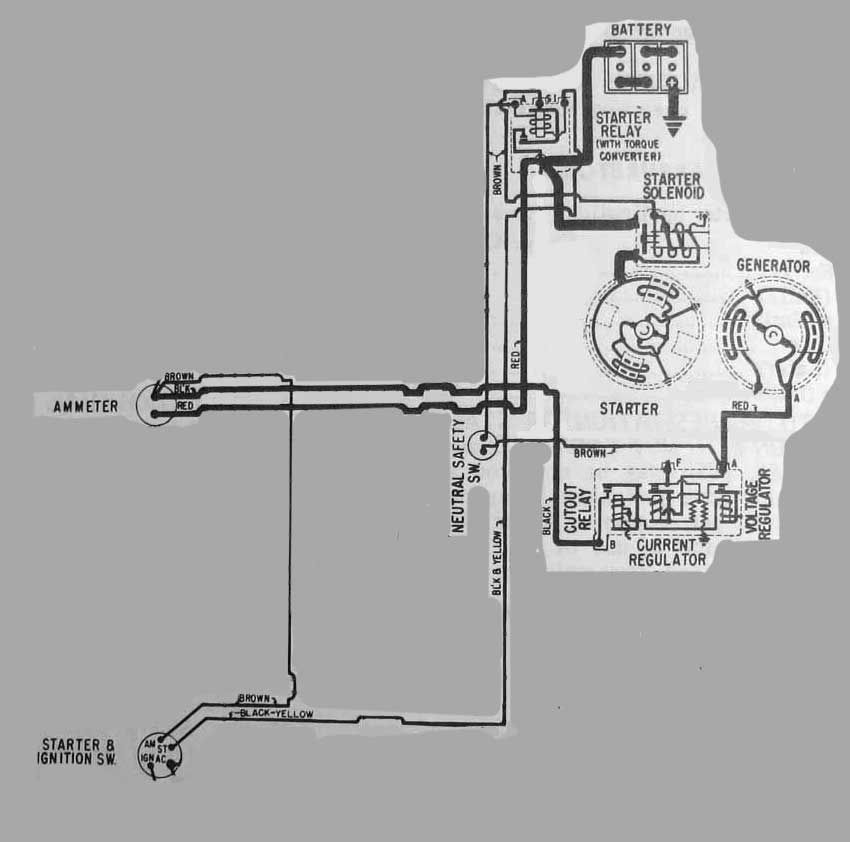 Hope this helps...