Quote:
Originally Posted by mf
The only modification I made was to enlarge the pushrod guide holes in the head to 7/16" for extra pushrod clearance. You should not use guide plates or pushrod guide holes with self-aligning rockers. If you want to use 1.65:1 rockers, you will need to use a Louis tool (Comp Cams) as a guide to elongate the pushrod holes.
Are you referring to "real" Vortec heads ('96-up)? Last I recall, you had a 4.3L V6 w/heads from a '92 or some such. The pre-'96 4.3L V6 engines might have been named "Vortec", but the heads are not similar to the L31 V8 heads until '96.
Quote:
Originally Posted by GUITAR1989
So for self aligned i dont need guide plates..what about the hardened push rods? Also do i have open up the push rod holes to use self aligned rockers?
is there any preformance advantage in running non self aligned rockers? Like do they operate smoother or something? Why do people use them if Self aligned rockers are out there?
To begin with, L31 Vortec heads have 7/16" ROUND holes already in the heads-
not slots
- that the pushrods pass through. The earlier non self aligning rocker arm equipped heads have a 7/16" x 11/32" ovoid hole in them.
If using 1.6-up ratio rockers, there's a chance the Vortec's 7/16" hole will not be long enough. A Lewis tool is not the tool for the job, it only lengthens the slot, it does not widen it. And if using the earlier heads w/the ovoid slot, the hole through the head needs to be
widened
as well as lengthened if using increased ratio SA rockers- the Lewis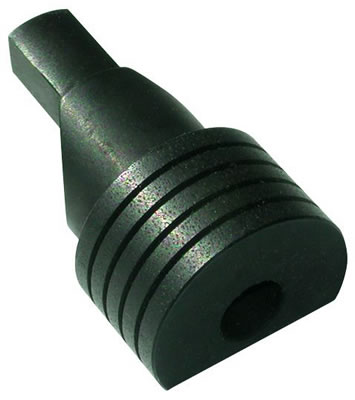 Lewis Tool.
So the best bet is to use a drill bit larger than 7/16" to open the holes up. Most often a 1/2" bit is used, I would use only as much size as was needed, but 1/2" will work. Drill at the same angle as the pushrods.
Enlarging Pushrod Hole w/1/2" Drill Bit.
Note the undrilled stock 7/16" round holes closest to the camera.
As far as any advantage in performance, there isn't any that I'm aware of. SA rockers are generally more expensive and there's less selection for them. But they can be used w/straight shank screw-in studs, w/o guide plates- so in the right application that could save some money.