I am having some problems and could use some advice- I had a 1985 Cutlass repainted for my husband while he was in Iraq.
Here is a before pic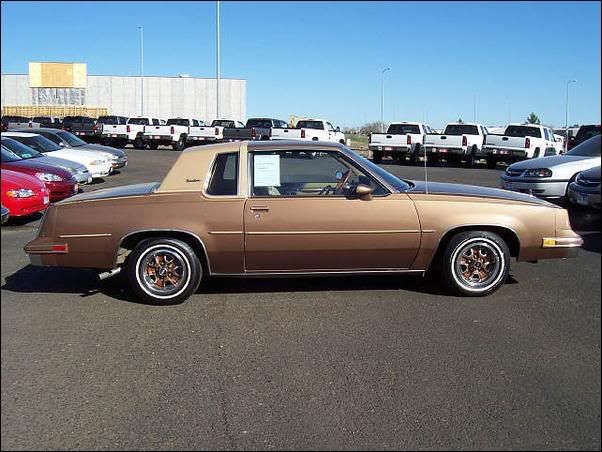 last summer- a year and a half after the paint job- i started seeing bubles in the drivers side door- called the shop that painted it and he kept putting me off- so finally it went there today and he thinks its rust and will not cover it- he is not a good guy, said guy took my car "hot rodding" w/o my permission, forgot to tighten the lug nuts and the wheel fell off and he skidded on the brakes/rotor into the ditch and wrecked the fender and wrinkled the drivers door- so needless to say- i do not trust him
We have taken the car to 2 diff shops today and they both say its rust due to bad prep- it was taken down to the metal and filled in- last guy says- hmmm looks like its right along the line where the trim was. and he looks at the other door and its starting to do it too! SO- he thinks when he welded it he forgot to seal it or something and moisture is getting in there and causing it to rust- this car was in PERFECT condition when i took it there- it has a lifetime warranty on the paint- but he says its rust and not fixing it.
so, i have estimates for $2000 for ONE side- since its house of Kolors paint-pearl its a bear to fade. Any advice how i can find out if this is truely whats happening? I am thinking I will have to take him to small claims court- I dont have $4000 to repay someone to do the job right that i already paid $5000 for the paint job- then he wrecked it and you can still see where the door is wrinkled since he did paintless removal...and my husband leaves in 4 weeks to go BACK to iraq so i will be dealing with this on my own- thanks for anyone that can point me in the right direction!
here is the after....and the paint is all bubling right where the trim was