This is my compressor.
It is 3 hp, runs on 220 Volts. I bought it probably sometime before 1980 from Sears, I think for around $300.00. I have replaced the pump, bought the newer pump at Grangier. I tnink I also replaced the switch, got that from Sears, a few years ago.
Would I buy a new Sears compressor now, probably not. When I bought the air compressor, Sears had pretty good quality stuff. I do not believe that is the case any more. Sears seems to have perfected the art of making stuff look pretty in the store, and masking the poor quality of the actual item.
When the day comes I need to replace the compressor, I will probably replace the motor, after all the pump is much newer than the motor. If my budget allows, I will possibily get an upright 2 stage compressor, with about a 5 hp motor. Probably from Grainger, again.
This is a tip I use to help the compressor. I have a second tank, this one.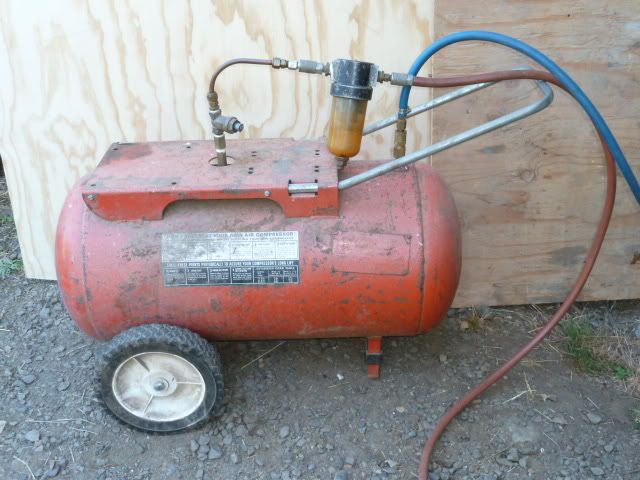 The tank doubles the air capicity of the compressor. When I need compressed air, not in the garage where the compressor is located, I move the auxilary tank close to where I am using air, and I also can take the tank without the air compressor somewhere else. The tank will blow three oe four 15 inch flat tires up enough to move a trailer to a steady supply of compressed air.
Painting is a special case. I run regulated air, about 25 to 40 PSI in the hoses to the second tank. By doing that, the 120 PSI air, in the compressor tank expands, and one cubic foot of air, at 120 PSI becomes a few cubic feet of air at 40 PSI, is cooled in the expansion process, water condenses out of the air, is trapped by the water trap on the second tank, or just goes to the bottom of the second tank.
This allows me to run this paint gun,
that requires much more air than the 3 HP compressor should be able to put out. to be honest, I have not painted ant complete cars, just do panels, but but painting close to constantly, the compressor runs about 40 to 50 % of the time.