Quote:
Originally Posted by kyle86
I am looking for a trans temp gauge that I can splice into my rubber cooler lines. Does anyone know of one off hand that comes with the t-fitting to do this? Or maybe one that I can buy fittings to do this with? I have a drain plug on my turbo350 but not sure if the sensor has the right thread pattern for the drain plug. I don't want to have to remove the pan to drill a hole.

THANKS!
What type and size are the threads on your sender?
You really want to use the fluid in the pan, but I suppose you could rig up something to work in the port of the tranny to the cooler- that's the
bottom
fitting on the tranny case.
The fitting threads are male, either 1/4-18 NPS ("S" for "straight", tighten to 25 ft/lb) OR 1/4-18 NPT ("T" for "tapered", tighten to 15 ft/lb). If the fitting uses a washer and tightens flush to the case, it's a NPS.
The fittings are inverted flare on the other end, so you'll need to work w/that, or a different fitting for use w/AN fittings/lines are available.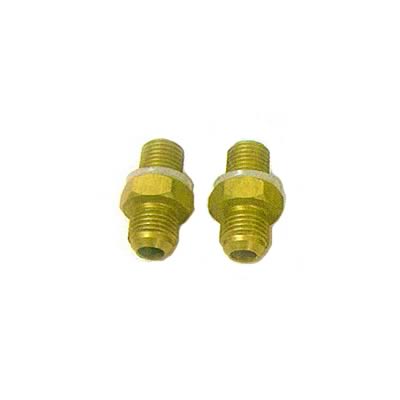 Russel, Earls and others will all have various fittings to use, just keep the sender as near to the tranny as possible. But putting it in the pan will be the best way and cheaper to boot- those fittings and all don't come cheap.