Freeze12 is one of the alternative products that is compatable with PAG, ester and mineral oils likes found in an r12 or 134 a system.
http://autorefrigerants.com/co00030.htm
I don't like the alternative stuff. I have had mostly poor luck with using it in the systems I've charged it with.
If your system has just stopped working, meaning the compressor clutch won't energize, the refrigerant pressure may be too low to close the binary switch...Look for that switch in the highside hose that goes from the condensor to the evaporator.
Pull the 2 wires off, and jumper them with a piece of wire ..if after jumping the leads, the compressor comes on when you turn the switch on your ac control panel, to "AC", the charge is too low.
Vintage air has been selling 134a systems for quite some time now, and avoiding selling r12 systems. you can find out which system you have by looking at the charge ports, a r12 system will likely have the charge ports on the compressor, while a 134a system will have the charge ports on the fittings or an inline fitting. Also, a vintage air system will have a tag on the side of the evaporator case, on the fan housing that says which type of freon it needs.
See the different type ports below.
Top one is r12, two on the bottom are 134A.
Finding leaks...
Sucks.
All of the previous posters in this thread are correct..
Soapy water does not do well with slow leaks though..
If it were me, I'd start by getting rid of the alternative refrigerant...then replace the O rings, using an ester type oil to lube up the o rings. Change the filter/drier while you are in there...
The O rings that VA uses are easily found at any good auto parts store. Vintage air can get you a new filter/drier, or you may be able to match one up at your parts store..
Then you or your AC guy can charge the system with and you can start looking for leaks.
Or you can evacuate the system yourself and see how long it takes to lose its vacuum.
Keep in mind that for you to properly charge, evacuate or assess the system yourself, you need a manifold set. and a vacuum pump. I have found the equipment at garage sales paying pennies on the dollar for them, or on Ebay as well.
You can use the leakcheck dye, it works, but you need to have a decent charge and run the system for a while..it gets injected in the lowside charge port with a syringe of sorts and you use a blacklight and special glasses to see it where it ozzes out from where ever it may leak from.... A bunch of companies sell the stuff..just do a google search for ac leak detection dye.
I bought my kit from the matco truck guy ...it has glasses, injectors, a cool blacklight for looking at phlorescent dye wet spots or looking scary on halloween.....a bunch of other leakcheck dyes for trannies and motors and radiators and it was about 85.00 when I bought it a few years ago..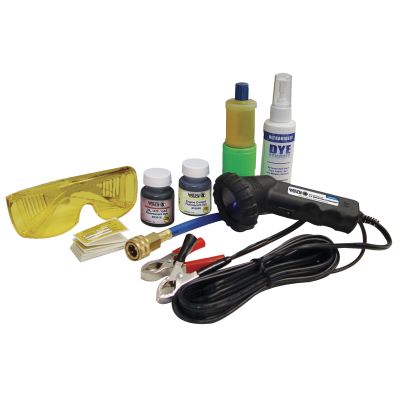 It has enough stuff that would give a DIY guy a lifetime of checking for leaks on his and his buddies cars.
Next up is a leak tester, I have 2, they both suck for finding slow leaks....Here is the better one I bought...and it is just as sucky as the crappy one..It is a corona discharge type, notorious for false alarms...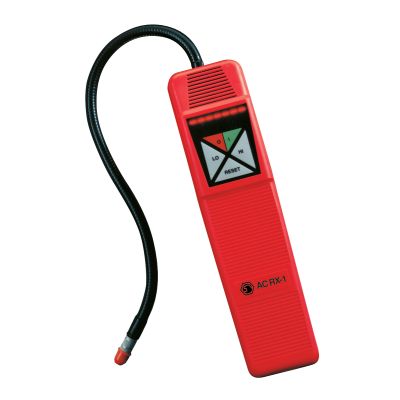 The real good one has a heated diode sensor instead of the corona discharge....but at over 500.00 I wasn't going for it.
I also find leaks by looking for oily deposits around fittings, and hose crimps. The oil flows throughout the system, aand will seep out under pressure.
You can put a can of freon with stop leak in it, Castrol makes a 134a with 2oz of stopleak stuff ..I put it in some systems to prevent callbacks on the 134 a systems.. (sorry...I'm a HO
)
Barrier hose for 134a takes a different crimp than the old r12 hose . r12 gets a crimp inline with the hose, while the beadlock fittings required for 134a get a bubble type crimp. Make sure you have the correct crimp for the fitting you are using. Barrier hose works with both types of fittings and refrigerant.
Hope some of this helps..
Mikey