If I can get the 305 up and running, I'm thinking of building a smaller turbo setup for the engine.
I have been looking at a kit manufactured by Martin Turbo Systems, which was a knockoff of a ACCEL kit.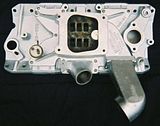 Thats the intake design.
both kits had a sort of valve that would block off the turbo while it was spooling, to help reduce lag. If I do this kit myself, I dobut I will use this, to make it less complicated.
From what I can tell, the Martin kit has a single plane.
So heres what I'm thinking.
Take a mass produced intake manifold such as this Edelbrock Torker II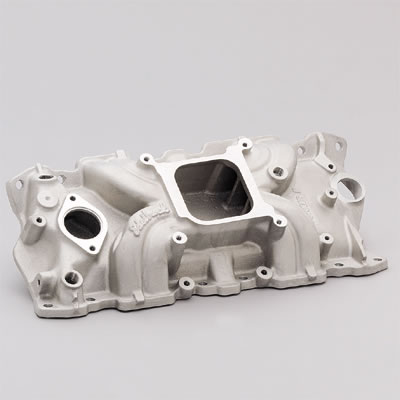 and put a port on one side, like the Martin setup, and have the turbo blow in under the turbocharger. I believe it is called a 'suck through' setup and the carburetor is not pressurized.
From what I can see on the Martin kit, the turbo sucks in mixed air from the intake, and compresses it, and puts it back into the manifold.
I may do this, as it seems it would help with the mixture.
I will be running a blow off valve and wastegate with any other turbocharged setup.
Do you guys think this would work? I'm not going for huge numbers, just trying to get a boost out of the 305.
I will be using the 305 as its what I have on hand.