Quote:
Originally Posted by leejoy
anybody ever use one of these types of spring tools? Are they any good? I'm looking for the best most effective - easiest to use valve spring compressor tool for BBC heads -
for using while the heads are installed on the motor
.
Summit has another type of tool that uses the rocker arm stud as a brace, while a "fork" part of the tool compresses the spring. This tool seems easier and more compact but...........do will they work on my BBC iron heads while installed on the motor and in the vehicle?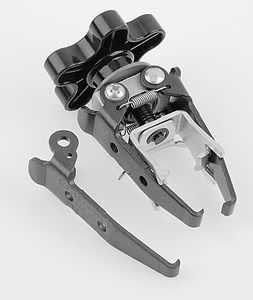 I have used that tool 50 or 60 times...to remove springs while the heads are still on the engine. I personally like it.
One problem with the stud mount/handle style is that in a standard car you run into all typs of things in your way, brake booster,etc.
If you buy that tool, for-go the recommended air hold to keep the valves in place. What i do is remove all the spark plugs. So the engine is easy to turn over by hand. Stick a piece of rope into the plug hole and slowley turn the engine over (by hand, not with the starter) untill the rope is compressed in the cylinder. (make sure your on the cycle where both valves are on the seats) then you can remove the retainers/ keepers/ springs with out the valves falling down, andas a bonus you have a soft cushin when you need to tap the top of the tool to break the keepers loose.
Keith