Due to a short month with holidays and family presence needed, our Thanksgiving "Turkey Run Pontiacs Only" did little to encourage more artists to take time out of their hectic schedules and participate as usual. Nothing though seems to stop the die hard artists that take much pride in this contest from Hotrodders.com and further its standing as a fun based giving to others in an artistic format. Last Months winner Brickyard boy a newcomer to the contest and a standout with a pencil sketch opened the door for a member assisted choosing of the Thanksgiving theme based for this month. Hoping to have more artists included, we held it up for a few days hoping for more additions and will have a short voting period to run into what we will now call "The First Annual Christmas Hotrodders Art Contest" since we had such a great turnout last year with so many artists giving on the holidays.
These contests have been quite close and this month we have 5 entrants into the mix for the end of the year bash finale' to bring you guys and viewers more and more cool artwork and even some surprises from a technical side being internet based.
The contestants images are placed in order of submission and many have a small and large version to expand to see more detail of their work in an added link below their description.
Voting Begins Now the 28th of November and will run only for four days since the Christmas season is upon us and many have been waiting for a long time to get into the last of the year Christmas Hotrodders Art Contest. A little hint to the winner for the topic would be Christmas Haulers if they feel the need for encouragement to begin the next contest topic, featuring trucks, rods, and anything with a bed for a complete all out extravaganza of artwork with any make or model as a good end to the year. Hopefully the winner will consider this for the next installment.
Voting Starts Now For The "Thanksgiving Turkey Run Pontiacs Only"
1: Deuce Rons "Thanksgiving Bandit Babes":
Talk about adding all the elements described in the text for the contest, Ron covered all bases and more adding an image of the Bandit trans am "Firebird / Pontiac" the fall surroundings of the tree's and colors needed to make it all come together and filing in the sides with another mention of thanksgiving with "chicks", lol posing a pilgrim and Indian next to the ride in a photo manipulation collage that truly shows his upcoming expertise with his graphics and photo skills.
Deuce Rons "Thanksgiving Bandit Babes"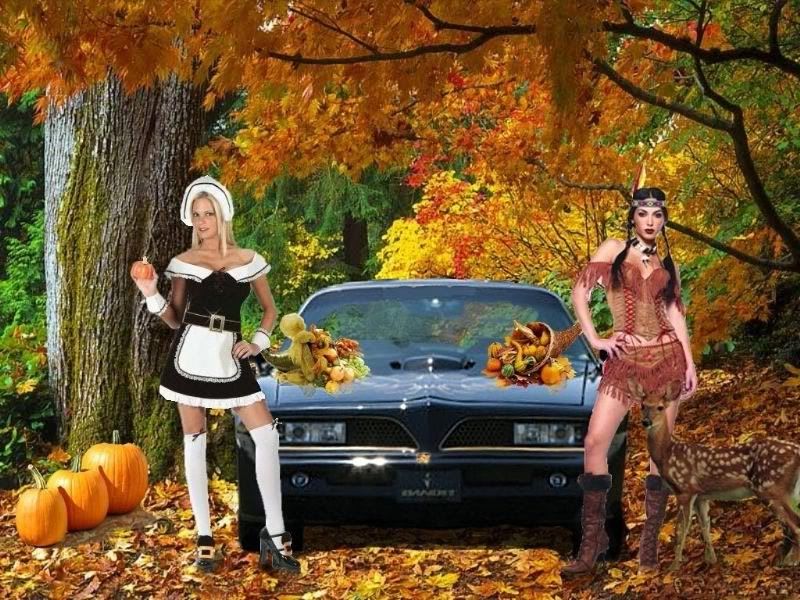 2: 57 Corvette's "Thanksgiving Greetings":
A new twist to one of the most winning artists in the contest is a formatted card style of his image with many details that are completely part of the trend towards a hallmark style gift and also included is a fun html page
http://www.ratrodstudios.com/hotrodders/hotrodders.html
to view for all others to figure the web into this also. Based on his designs of the past, this time 57 this time used subdued colors and pale shades to enhance the image's photo manipulation in perfect fashion describing to all at a view the emotions of opening a card and looking right at it at the table when dinner is on. A very pleasing choice of vehicle and backgrounds combination.
57 Corvette's "Thanksgiving Greetings"
Click The Image Link Below For The Artists Larger Version;
http://i244.photobucket.com/albums/g...ving-large.jpg
3:brickyardboys "Thanksgiving Portrait Sketch":
An inspirational look at the styles used by many artists of high levels that move from starting sketch to a final painted products image, you see this in fine hotrodding art used all over by some of the best there is. Brickyard Boy didn't take this Pontiac image as far as it could have gone and finished it in pencils and colors with some fine close up details that keep the theme and give you that look of being in an art gallery and this image sitting on an easel ready for all to stop and look at. A much defined image and use of all fields in the description is a winning touch.
brickyardboys "Thanksgiving Portrait Sketch"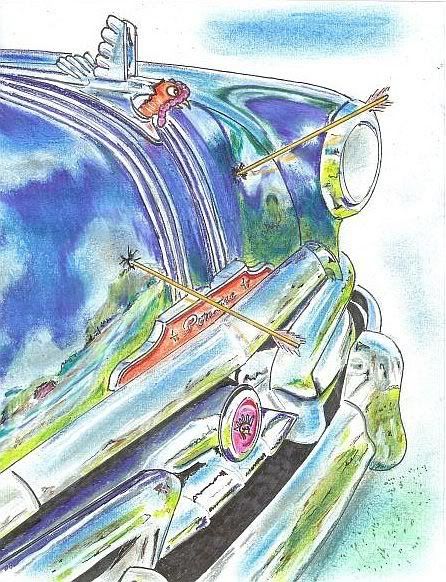 4: Steelcity6 "Wild Turkey Cruising"
Nothing like paper and pencils or markers to really bring out talent for those who like the real raw look from an artist, this wild caricature of a 68 or 67 Pontiac Firebird takes a fun look at how an artist can put pencil to paper and add with it his own style we've seen before in his contest entries, a good blend of being able to create both car, image and setting making it almost like a t shirt for fun and cool thanksgiving ideas. One of our few here that will do the image and simply take a photo of his work to allow you to vote as you will for a very neat combination of getting it into the contest.
Steelcity6 "Wild Turkey Cruising"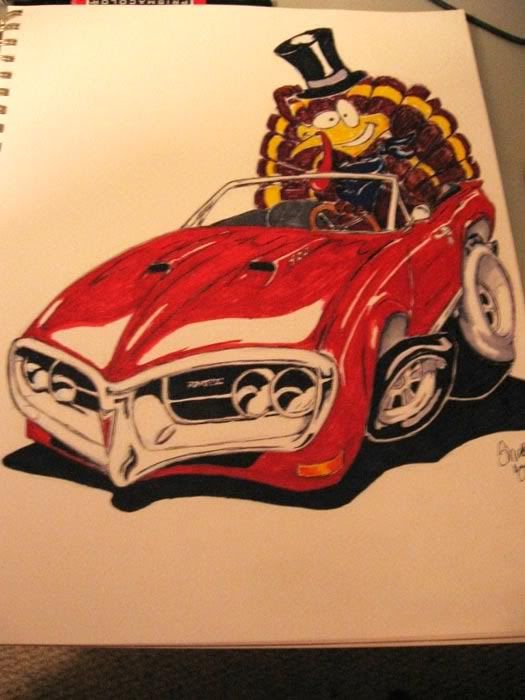 Click The Image Link Below For The Artists Larger Version;
http://i244.photobucket.com/albums/g...ving-large.jpg
5: Fortypickups "Gobble Gobble Thanksgiving"
Forty just seems to have knack for cool creations, another bubble gum 70's version with a hint of Chrysler advertising also in there at least through my eyes as I remember the older road runner style adds in magazines. This time Forty takes it into the Pontiac arena with a hand drawn caricature of coolness from our earlier days of neat art combined with clever graphics and a simple tale of the holidays, this is Art 101 for many of us out there. Deep dark lines, with a hint of color and the skewing of the actual perspective lend the image a cool factor of 10 for those that enjoy his many different styles of artwork.
Fortypickups "Gobble Gobble Thanksgiving"
Click The Image Link Below For The Artists Larger Version;
http://i244.photobucket.com/albums/g...anksgivi-1.jpg
You've now seen the work and voting will begin, hopes of a strong vote and moreso the continuation of this hotrodders cllassic monthly addition will prime others to add to the contests and include more perspectives into the realm of cool hotrodders art.
Enjoy and Vote Guys !!