Hey there everyone I just thought that I would let you all know that my dad and I got the 350 V8 and th350 trans. pulled from our donor truck this weekend for our 69 convertible beetle and share some pictures. Now I need to get rid of this truck so I can buy an S-10 for the chassis
The engine is actually VERY clean, the only place it was leaking oil is from the valve covers everything else was nice and dry. Since it only had 5000 miles on this remanufactured engine all the bolts came out very easily. It was nice not having to fight with a bunch of rusty bolts.....
I think we really have ourselves a good engine here. It's not going to be a huge power house being a 70's truck engine from the smog era, but it should be plenty of power for our bug and very reliable.
It's a stock remanufactured 350 with about 5000miles on it. Compression ranges between 147 and 150psi on all cyls (my manual says it should be 150psi.) When I pulled the valve covers off to find the casting numbers on the heads everything was VERY CLEAN and looked brand new, and no oil leaks except for the valve covers, but they are getting replaced anyways.
Here are a few pictures with captions. You can also check out my website for better quality pictures and some from the rest of the project check out my website from my profile.
I made a quick "A" frame out of some old wood I got for free off of Craigslist. Well I cheated a little and used the garage so I guess its half an "A" frame..... LOL
Here we have the engine pulled out. I didn't have enough travel in my chain fall(actually an old HEAVY DUTY engine leveler) to pull the engine all the way out of the truck so we cut out the center of the front clip of the truck. We then raised up the engine a little and pushed the truck back and then lowered the engine down.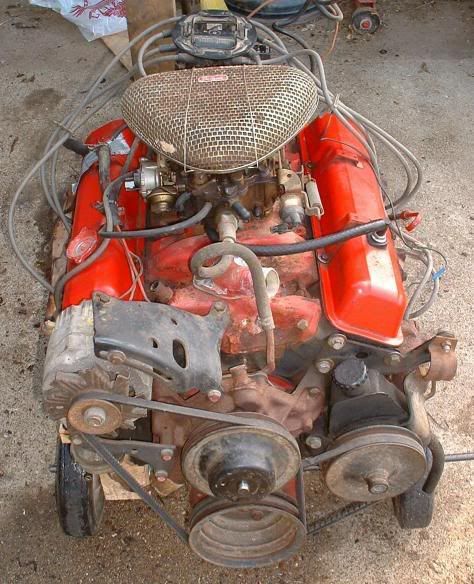 Here is a closer look at the engine after I cleaned up all the extra vacuum lines and wires.
I have a used eldelbrock performer intake manifold coming that I'm going to put on this and also some shiny new valve covers. I'll also replace that cheap air cleaner. I'll also repaint the engine since the black is starting to rust, that way it will be all shiny and new looking
We just arn't sure if we'll go with black again or maybe silver???
There's a good shot of the 350 engine and TH350 Transmission. I built this little stand real quick so I could roll the engine and tranny around and so I could move them out of my way when I needed to.
With a little work, this engine "stand" I built could be a real fun go cart..... LMAO
I just had to get a feel for what the engine was going to look like in the bug so I rolled them next to each other.... Maybe I should stop telling people that we are putting a 350 in our bug and start saying that we're putting our bug on a 350... LOL
Talk to you all later….
bye