Never met a tool I did not NEED ..
Been buying them for 40 years. Have a pretty good collection of stuff ... only buy the good stuff ... no Harbor Freight junk.
Yard yards ... are great ... and I have a friend who works for a lawyer ... cleaning out estate homes. He always finds cool stuff ...
I got a Wilton vise for 5 dollars.
I have bought complete roll around tool boxes FULL for 5 hundred. I have bought 3 snap on 's and two Macs ... for 5 hundred each. FULL ...
from the guy over the years.
I pick thru the box and keep the best ... and sell the rest ... for a sizeable profit. Now I have two MACs top and bottom roll arounds ... FULL ...
One of the BEST tools I have ever bought is a MasterCool Hydraulic flaring tool. I bought it new ( ouch
) but it is worth it ...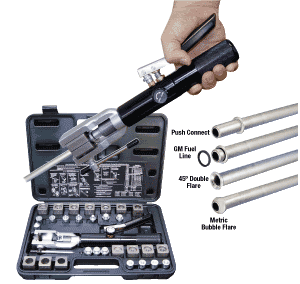 At almost $300.00 ... it is not cheap ... but it makes perfect flares ... first time, every time.